New and valuable technology is popping up in the bitcoin and blockchain arena, which includes new ways to protect your cryptocurrency. If you found yourself wondering how to protect your bitcoin private keys, you should check out this unique method.

Introducing the Stonebook
Stonebook. It is the first water-resistant notebook for storing usernames, passwords and cryptocurrency private keys. It will work for all other cryptocurrencies as well since the usage is the same. Imagine being able to have a truly safe private key wallet to write down all the data that keeps your crypto public and private key encryption. This is what the Shieldfolio Stonebook does — and very well, at that. Unlike traditional paper, the pages of this notebook are not made from trees.
They are made from crushed stone. This makes the Stonebook durable enough to last a lifetime.
The Stonebook is a water-resistant pocket-size notebook to writing down Private Keys, and Recovery Phrases for Hardware wallets.
Shieldcrypt takes a new approach to encrypting your private keys on paper. It utilizes easy to remember passwords that you create to mask certain private key characters. By using this method, you are helping ensure total privacy in the case if somebody manages to find it's location.
Shop online at Shieldfolio.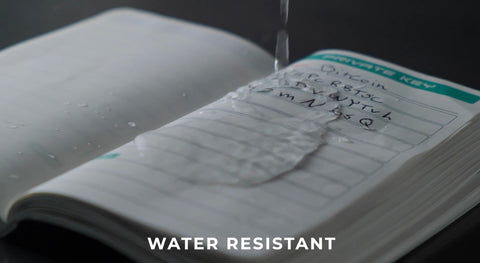 The pages of the Stonebook are also 100 percent water-resistant. The extra safety from this is obvious. You can spill your coffee on this 80-page notebook and not have to worry. Getting caught in the rain or a flooded house with the Stonebook will also not cause loss of information like what can potentially happen with a private key wallet. This is a great idea that has now come of age for use in writing down any valuable information but is particularly made for those in the cryptocurrency realm and those who solely rely on a private key wallet. To top it off, the ink used in writing down important data is nearly invisible. The whole idea is to preserve the private keys of your bitcoin wallet with as much security as possible. That is why we came up with this private key encryption.
Extra protection using a special form of encryption
The Stonebook has a unique manual method of hiding private keys behind passwords using private key encryption. A special page that is filled with a group of blocks is included. These blocks are created for entering password hint questions that only you will be able to think of. This is one way to take security a step further. In this way, Password hints are grouped answers which are harder to guess than a standard password. It nearly guarantees that no one will be able to guess your passwords without the aid of highly sophisticated computer methods. This method is named Shieldcrypt and further augments the security for your crypto coins.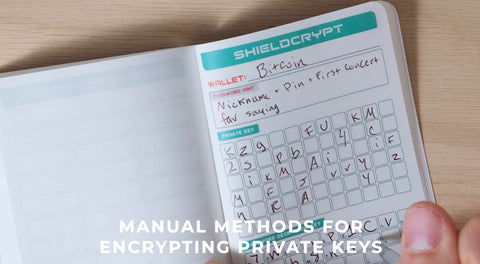 How long will the Stonebook last?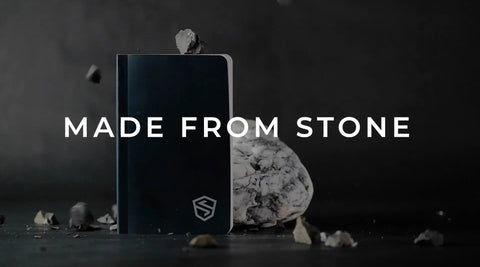 The novel idea of making pages out of stone should come to mind when thinking of this question. This notebook is crafted to last a lifetime and is the most unique private key encryption available to date. No trees are harmed or used when making this durable notebook. There is no metal to rust, and the pages are tear-resistant. This means you can pass this on to your loved ones as an heirloom if so desired.
Why buy this notebook instead of a secure hardware wallet?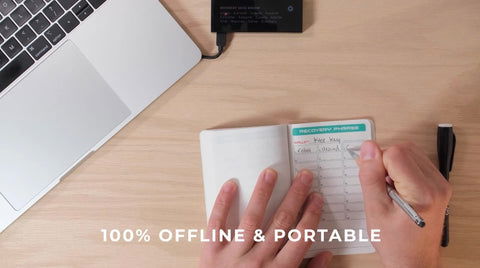 It's clear a hardware wallet remains the best option for crypto holders interested in keeping funds safe. Their security, toughness, and ease of use make them a valuable tool in the arsenal of those looking to buy, sell, and trade cryptocurrencies. There are many options available, but you want to consider the best crypto hardware wallet on the market.
But as we've learned, accessing a crypto wallet could turn into a nightmare if the private key is lost.That's where a tool like the Shieldfolio Stonebook. In our humble opinion, the best crypto hardware wallet available. Instead of writing private keys down on pieces of loose paper, the Shieldfolio Stonebook is an offline notebook allowing a user to jot private keys and passwords on water and tear-resistant pages. The artisan-grade stone paper notebook works with any ballpoint pen and has categorized pages to help organize seed phrases, private keys, and other sensitive information.
The Shieldcrypt feature works by concealing key characters of private keys, making the page useless to an outside thief who manages to get the book. It is not your average paper wallet.
While hardware wallets like the Trezor or Ledger work as advertised, they have some limitations. These private crypto wallets must be connected to a digital device to operate. The Stonebook is not like the typical private crypto wallets. There are no digital connections—nothing to upload or download, and it's 100% offline.
Hardware wallets are complimented very well by the Stonebook because they require a recovery phrase. This is precisely what this notebook does — it stores private keys, and recovery phrases. Another good reason why the Stonebook is superior to a hardware wallet in terms of durability is that it's waterproof. It works perfectly in support of public and private key encryption. An electronic device will short out with enough moisture. This will never happen with a notebook made of stone paper.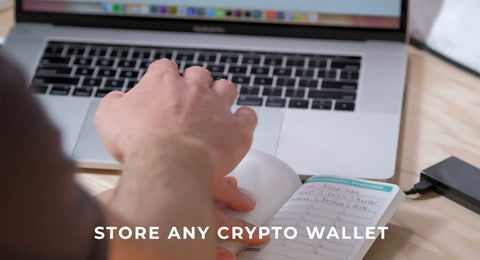 Many people in the world are turning to things that do not harm the environment. Hardware wallets, unlike the Stonebook, are fabricated from resistors, chips, and other electronic parts that will eventually be thrown into the trash. They then go out into the environment where they will likely be contributors to the world's pollution.
The ghost pen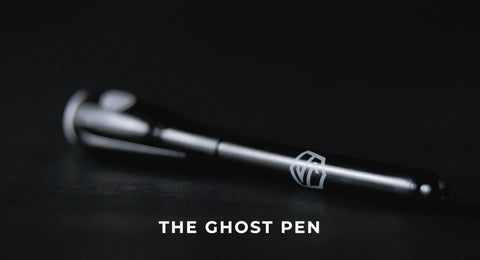 This special notebook uses a unique way of protecting what is in it. A pen that writes in a special low visibility ink is a cool addition to this setup for greater security in public and private key encryption. The Ghost pen writes with ink that is invisible to the naked eye.
In order to see the crypto private keys, ultraviolet light is used from a different source to see what the ghost pen has written. There are certain other conditions where what has been written in the notebook can be seen, but the key is the ultraviolet light. This prevents photo snapshots and prying eyes from seeing what is written and creates an extended level of security when used in public. If you lose your notebook, there will be only a few people who would think to go get an ultraviolet light to try and see your 24-word recovery phrase.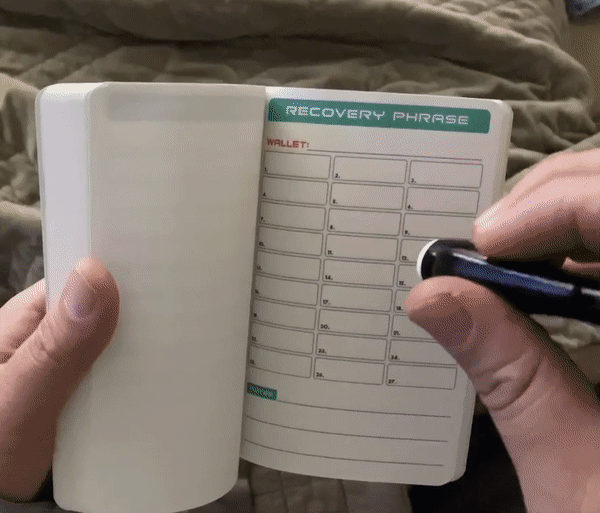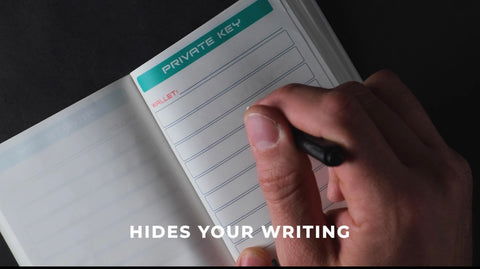 Saving passphrases from your favorite secure wallet App
The Huobi wallet app is a decentralized digital wallet that many people feel has superior features. Even so, it can be augmented by the Stonebook for even more security. Other wallets such as electrum or the Coinbase wallet should be considered the same. Instead of taking photos of your Mnemonic Phrase, it is better to write your 24-word recovery phrase securely in this notebook. Losing your smartphone with the Mnemonic Phrase photographed inside could be a disaster. Saving a Mnemonic Phrase to a cloud service is also not recommended.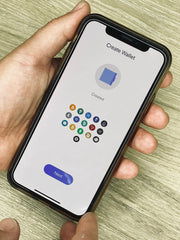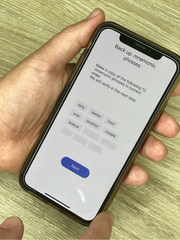 The best way to think about your crypto is the same as with real money. Avoid the chance of other unscrupulous operators stealing it by having all the control in your own hands. This special notebook allows you to have all the pertinent data written down in such a way that it will securely last for generations.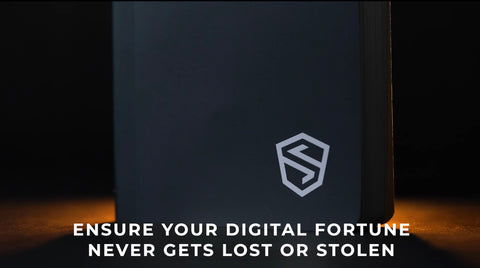 ---
---
Have you backed up your Mnemonic Phrase yet? Lost track of Bitcoin Paper Wallets?
If this is you, then don't worry, there's a safer solution now. Introducing The Shieldfolio Stonebook, a 100% Offline Notebook that allows you to back up your entire Digital Fortune on durable water and tear-resistant pages. Throw it in your safe, and never worry about losing your Cryptocurrency again. Pair it with the Ghost pen 👻 for added privacy. (Sold separately).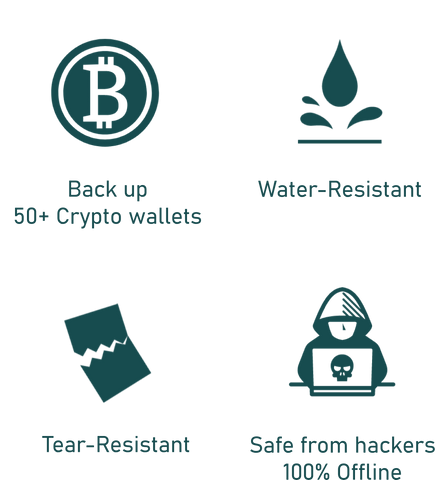 Specs
Unhackable & 100% Offline

80 page Artisan Grade Stone Paper notebook

Works with any Ballpoint pen type

Crypto enthusiasts, investors & traders love it!

Organize seed phrases, private keys and more

Shieldcrypt paper encryption for maximum security

Dimensions 3.5" x 5.5" inch Stone paper notebook
Store 50+ Crypto wallet's
Private Keys
Recovery Phrases
Usernames & Passwords
2FA's (Two-Factor Authentication)
Notes
Hide your private keys
The Ghost Pen protects you from revealing your information by using special ghost ink to hide plain text. The text is only clearly legible in UV Light and specific lighting conditions.
Protection from:
Lurking eyes
Photo snapshots
Search & seizure confiscation
Nosy people
Encrypt your private key
Shieldcrypt works by concealing critical characters of your cryptocurrency private key, making it useless to a thief.
Shipping
World Wide Shipping

Orders ship within 48 Hours (weekdays)

Discreet Packaging

International orders subject to customs & duties
---
FAQ
Why use the Stonebook to record my private keys?
Compared with traditional paper, the Stonebook is a safer and more secure way to record your private keys and seed phrases. Stonebook pages are made from crushed stone. This makes the Stonebook resistant to tearing, oils and chemicals, water damage and paper-eating insects. When combined with the Ghost Pen, the Stonebook is the securest notebook for crypto in the world. Each purchase is backed by our 100% Guarantee Policy.
Why make paper made from stone?
If something its written in stone, it is written forever. The ancient Sumerians chiseled writing into stone tablets that have lasted 3,000 years. We like stone for its permanence. Stonebook pages are made from 80% limestone powder and 20% high-density polyethylene. The feel is similar to tissue paper, yet the pages are waterproof, resistant to grease and smudging, and can be washed. Traditional paper is made from wood pulp, which can decompose in as little as two weeks. The Stonebook is vastly superior.
How long does the Stonebook last?
The Stonebook is virtually indestructible and made to last a lifetime. However, no security solution is completely invulnerable. If Stonebook pages are left open and exposed to continuous sunlight, they will decompose after a few months. If closed, the Stonebook can withstand 12 to 18 months of sunlight exposure.
I've recorded my data with ballpoint pen. What happens of the ink washes away?
Ballpoint ink is very unlikely to wash away. But rest assured. When you write into your Stonebook, you're actually making permanent indentations into the pages, much like the Sumerians and their chiseled stone tablets. Stonebook paper is slightly malleable. The pressure from your pen tip creates permanent etches into the stone paper. This information can be recovered by scrawling a black pencil or crayon onto the reverse side of the page.
Is the Stonebook fireproof?
No, the Stonebook is not fireproof. However, the resin that binds with the stone in Stonebook pages has a low melting point. For superior protection, it is recommended you store your Stonebook in a fireproof safe.
Can I bury my Stonebook underground?
Yes. Stonebook pages are non-biodegradable, impervious to paper-eating insects and metal detectors (an advantage over metal wallets). However, if you plan to bury your Stonebook, it is recommended you use ballpoint ink. Ghost Pen ink is not suitable for this application.
How is the Stonebook more environmentally friendly?
Stonebook pages are made from limestone (a waste product from quarries), while the plastic binding agents we use are derived from old plastic bottles, maize or sugar cane waste. In addition, Stonebook paper is naturally white, which eliminates the need for bleaches. This sustainable approach to making our product is superior to recycled paper, which requires significant energy, water and chemicals to produce.
Is Ghost Pen ink invisible?
The concept is very similar. Ghost Pen ink is visible under UV light and certain other lighting conditions. Under normal indoor lighting, Ghost Pen ink cannot be seen by the naked eye. This makes the Ghost Pen ideal for recording crypto keys, seed phrases and passwords.
Is Ghost Pen ink permanent?
Ghost Pen ink is designed to be permanent. However, extreme conditions can impact its longevity. If always kept indoors at room temperature, Ghost Pen ink should last the lifetime of the paper it's written on. Essentially, Ghost Pen ink does not expire.
Do you ship the Stonebook and Ghost Pen internationally?
Yes! Please view shipping information for more details.
---
About Shielfolio & Stonebook
Founded in 2019, Shieldfolio is a company that creates innovative products to help you secure your crypto. If you're constantly worried about losing access to your digital assets, then worry no more. Their iconic Stonebook is used to jot down Seed phrases and passwords on water and tear-resistant pages that last a lifetime.
The Shieldfolio Stonebook is a waterproof notebook where you can write your private information like your usernames, passwords, private keys, Recovery phrases, etc. It's a portable size notebook that fits in your back pocket so you can hide it anywhere. The Stonebook is made almost entirely out of stone, which gives it the properties to last a lifetime. It's waterproof, tear-resistant, oil, and chemical resistant. You can also write in it with the ghost pen to make your text less visible. Last but not least, You can store any crypto wallet, and there are manual methods for encrypting your private keys, which makes it useless to a thief.
Visit to purchase now at, www.shieldfolio.com
The Stonebook is a water-resistant pocket-size notebook to writing down Private Keys, and Recovery Phrases for Hardware wallets.
Shieldcrypt takes a new approach to encrypting your private keys on paper. It utilizes easy to remember passwords that you create to mask certain private key characters. By using this method, you are helping ensure total privacy in the case if somebody manages to find it's location.
Shop online at Shieldfolio.
---
TOP 10 Best Metal Cold Storage Seed Phrase Backups For Your Bitcoin & Crypto Wallet