Vertex.Market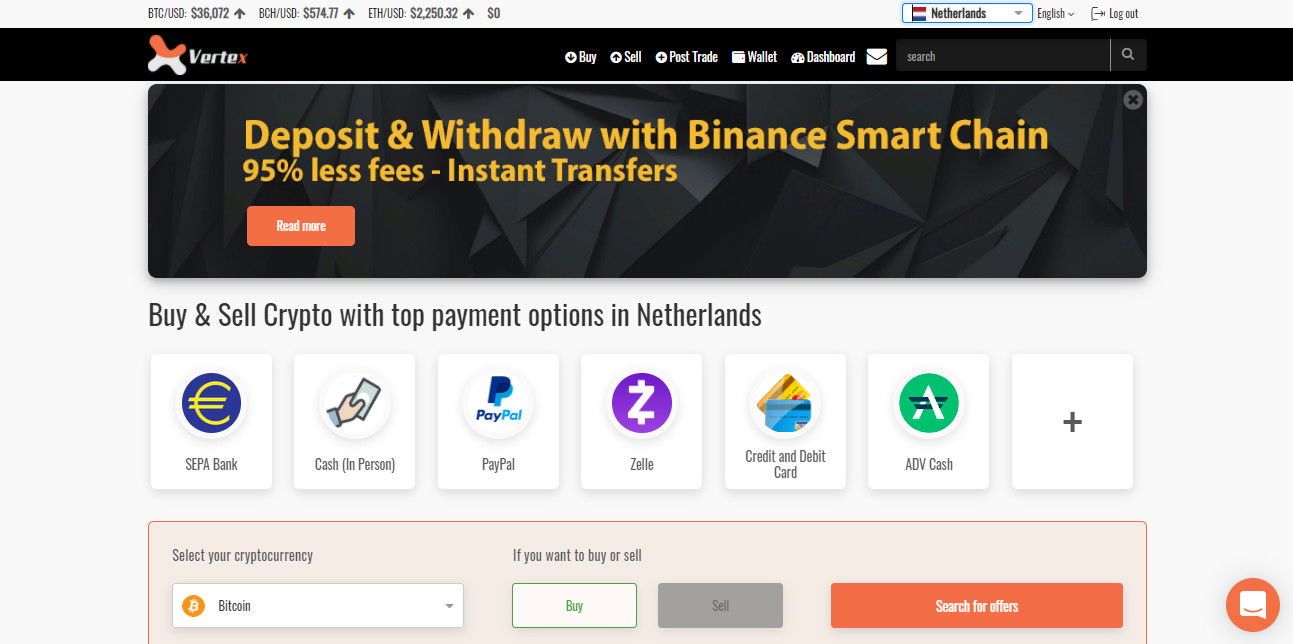 Vertex Market is a dynamically developing peer-to-peer trading platform with more than 70 thousand users worldwide (200 countries). The platform allows any trader to trade without unnecessary verification processes or waiting time, to conduct transactions for the purchase and sale of crypto assets directly between users. Users of the platform can publish their offer with their own terms of exchange, or simply select an ad from the list and respond to the proposed terms. The absence of intermediaries makes it possible to quickly and profitably make transactions without compromising security.
The commission on the Vertex marketplace is 0.5% of the transaction amount-it is paid by both the buyer and the seller.
Passing the KYC check on Vertex.Market is an optional procedure, but to make large transactions, users need to provide identification information.
For all verified users, the platform pays cashback of $10 from each transaction within three months after registration. Now Vertex supports 25 ways to buy and sell cryptocurrencies, including bank transfers, credit cards, as well as popular payment systems: Webmoney, Skrill, Western Union and others.
On the trading platform, you can sell and buy 6 major cryptocurrencies: Bitcoin BTC, Ethereum ETH, Bitcoin Cash BCH, Litecoin LTC, USDT Tether, and USD Coin, using the most popular payment methods around the world, as well as store and exchange your crypto assets to the equivalent of the US dollar and back.
Vertex.Market has the option of providing Insurance from the leading insurance operator from the UK (Lloyds of London). If you are concerned about the security of funds in your wallet or when making transactions, you can apply for insurance. The policyholder is a user of the platform who can apply for insurance in their wallet.
The Vertex peer-to-peer platform is owned by Vertex Capital – a private equity firm engaged in over-the-counter trading for large investors.
How To Properly Create A Buy And Sell Bitcoin Offering On Vertex Market P2P Exchange
Creating an offering on Vertex is simple; you will need to register an account with Vertex first and confirm your email and phone number. To register and create an account, you will need a valid email address and complete the requirements for the Level B1 verification.
You will only need a phone number and country of residence to complete this level.
Watch a step by step video here:

Buy Offering
Once you have verified your account, you can proceed to create your offering by clicking on 'Post Trade' on the main page. This button will take you to the offerings tab where you can select the cryptocurrency or token you want to sell or buy. There are hundreds of cryptocurrencies and tokens that you can choose from.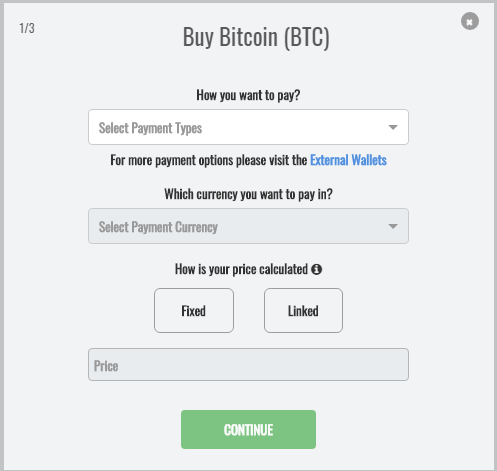 Here you will need to select the payment type you want to use but don't worry if you don't have one set up as you will be able to set it up later on. The 'Fixed' price rate means that your rate will stay the same no matter what, the 'Linked' rate is automatically calculated every 5 minutes as the market can change really quickly.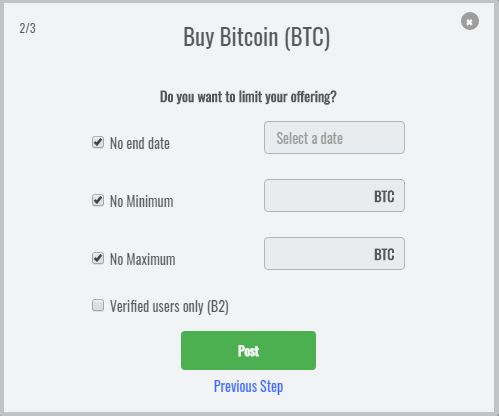 On the next step you will need to specify if you want to set a date for your offering as well as the minimum and maximum order limits. You can also choose to trade only with verified B2 users. Once you are happy with your order, click on 'Post'. This will take you to the next screen which will show you the offering number as well as the option to get notified via Telegram whenever an action from you is required. You do not have to have funds on your account to post a 'buy offer'.
Sell Offering
On the main page of Vertex, click on 'post a trade'. On this tab, you will be able to post a selling offer with your terms specifying the payment method you want to use, minimum and maximum orders, which currency you want, and more.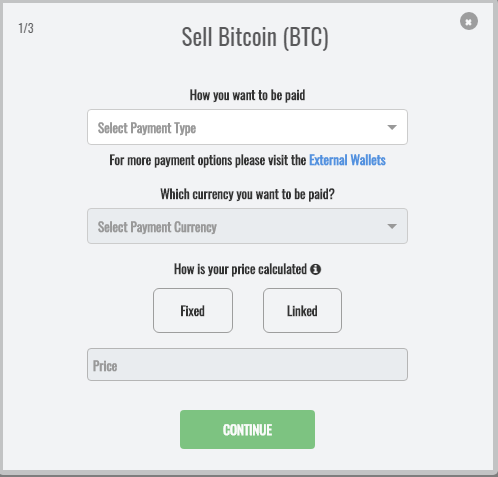 The rate at which you want to sell can be fixed, meaning that it will stay the same forever even if price changes or linked which automatically calculates the rate every 5 minutes. You can choose from any of our 25 payment methods supported. If you do not have enough funds to post the offer, you can still place the offer but it will not be visible to other users.
On this next step, you can specify if you want an end-date for your offer or not, a minimum and a maximum order limit and if you want to transact with verified users only (B2). Your offering will also not be live if you haven't saved the information about the payment method you want to use. Your offering will be on hold until you deposit the required amount of money and save valid information about the payment method. Once you have completed everything, you will be able to find your own offer on the 'sell' tab.
The Vertex peer-to-peer platform and Binance Smart Chain reduce traders' costs by up to 95%!


Binance Smart Chain (short BSC) is a blockchain issued by Binance that is a 100% EVM (Ethereum virtual Machine) compatible blockchain. This means, it can run every smart contract that works on Ethereum. That makes it very easy for token issuers to also create a BSC version of their coins.This however, is not the best part of BSC. The best part is that Binance Smart Chain is extremely fast and cheap to use. Transaction fees are paid in BNB and are mostly between 3 and 10 cents.
What makes Binance Smart Chain very interesting for P2P trading on Vertex Market however, is again another story. Binance has issued on their own Blockchain all major cryptocurrencies such as Bitcoin, Ethereum, USDT, XRP and many others as pegged coins. Pegged coins are coins that are 1:1 pegged to the "real" coin on their respective network. In the case of Bitcoin BTC, this means that for each Bitcoin on the Binance Smart Chain, there is a Bitcoin held in reserve by the issuer on the real bitcoin blockchain.
What does this mean for me as Vertex Market Trader?
Before, you were forced to park money onto Vertex (or any other P2P marketplace) and then if not required, paid a big fee to withdraw as the platforms don't want to lose money on your actions and basically forward you the mining fee they pay. This caused especially problems in the communities with rather small trade sizes as paying $20 for a withdraw on a $100 deal was just not economical.
What changes for me?
You can now deposit and withdraw all currencies on Vertex by using the Binance Smart Chain option, reducing your fees by up to 95%!
Of course, the speed will also increase drastically, from hours until confirmation on the current Bitcoin blockchain for example down to couple seconds. Every currency listed on Vertex is always available as pegged coin on the Binance Smart Chain.
NOTE: Please be aware that even though a TX is confirmed within 2-3 seconds, it can take up to 5 minutes to show in your wallet as it can happen that our node is lacking behind due to the speed of the blockchain at times.
How does it work?
Just go to your wallet section and click on withdraw. For Bitcoin, you will find now 2 options. One is the native blockchain (bitcoin in this case) and the other is the Binance Smart Chain. Chose the second and enter a valid BSC address. This is it. You will receive Bitcoin on your Binance Smart Chain wallet. If you use a Binance account wallet, then you simply will see Bitcoin in your wallet. This works the exact same way for all cryptocurrencies when you use the Binance Smart Chain withdraw option.
To deposit, click on deposit and chose the Binance Smart Chain option. You will be assigned a smart contract (your wallet is a contract) to which you have to send funds to. Send any supported currency to this address and you will within 5 minutes see the balance in your account.

Advantages of Vertex Market
The option of providing Insurance from a leading insurance operator from the UK (Lloyds of London).
The commission is only 0.5% (for seller and buyer).
The Vertex peer-to-peer platform implements a 2/3 multisig address, which can only be withdrawn with the consent of two of the three participants. Such a multisig is able to make many transactions with three parties convenient and secure, and to solve problems when two participants trust a third to judge them.
You can use the password protection setting for your trades. This setting allows for "secret" offers that can only be accessed with a password. These offers do not appear in the general offer list and can only be found by directly searching for the offer ID/code.
The document storage is implemented in the Vertex platform. You can check users and their documents yourself, in addition to KYC, which is conducted by Vertex. The buyer must upload specific documents for verification before they can trade with you, you can either accept them or reject the transaction.
No mandatory verification.
Vertex supports a wide range of payment methods, including SEPA bank transfers, credit card, cash deposits, local bank transfers, Swift, Revolut, Paypal, Skrill, Moneygram, Western Union, Transferwise, and others.
Profitable courses.Fraud protection.
24/7 support (English, Spanish, Russian).
Conclusion
Vertex is a peer-to-peer marketplace that combines all the qualities of a leading global trading platform, and in some respects even surpasses such popular exchanges as Paxful, Localbitcoins, LocalCoinSwap and LocalCryptos.
In addition to the advantages of Vertex, which are described in this article, it is worth adding the main advantage of the platform - it is the constant dynamic introduction of new, advanced technological, financial and insurance solutions into the company's practice, providing fast and safe work of traders, reliable protection of their fiat and crypto assets.
The company's slogan "Vertex - The Future of P2P trading" is completely reliable.
---
TOP 20 peer-to-peer platforms
---
Buy and sell bitcoins and other cryptocurrencies instantly, locally, without a third party, using different payment methods on the best peer-to-peer platforms: Paxful, Localbitcoins, LocalCoinSwap, LocalCryptos, Binance P2P, Vertex Market, Hodl Hodl, Agora Desk, Remitano, Coindirect, WazirX, Shiftal, CryptoLocator, Bitpapa, Chatex, CoinCola, TotalCoin, BitZlato in the:
UAE, Argentina, Australia, Bangladesh, Brunei, Bolivia, Brasil, Belarus, Canada, DR Congo, Switzerland, Côte d'Ivoire, Cambodia, Cameroon, 中国, Colombia, Algeria, European Union (Austria, Belgium, Bulgaria, Croatia, Cyprus, Czech Republic, Denmark, Estonia, Finland, France, Germany, Greece, Hungary, Ireland, Italy, Latvia, Lithuania, Luxembourg, Malta, the Netherlands, Poland, Portugal, Romania, Slovakia, Slovenia, Spain, Sweden), the United Kingdom, United States, កម្ពុជា, Ghana, 日本, Hong Kong, ประเทศไทย, Indonesia, Israel, India, Kenya,ាSouth Korea, Myanmar, Mexico, Malaysia, Namibia, Nigeria, Norway, Nepal, New Zealand, Oman, Peru, Philippines, Pakistan, Qatar, Russia, Rwanda, Singapore, ประเทศไทย, Turkey, Taiwan, Tanzania, Ukraine, Uganda, Venezuela, Việt Nam, South Africa, Zambia, Zimbabwe.
---
Have you read this article to the end? Then a gift for you! Follow this link and get a 30% discount when buying the world's only biometric hardware wallet D'CENT.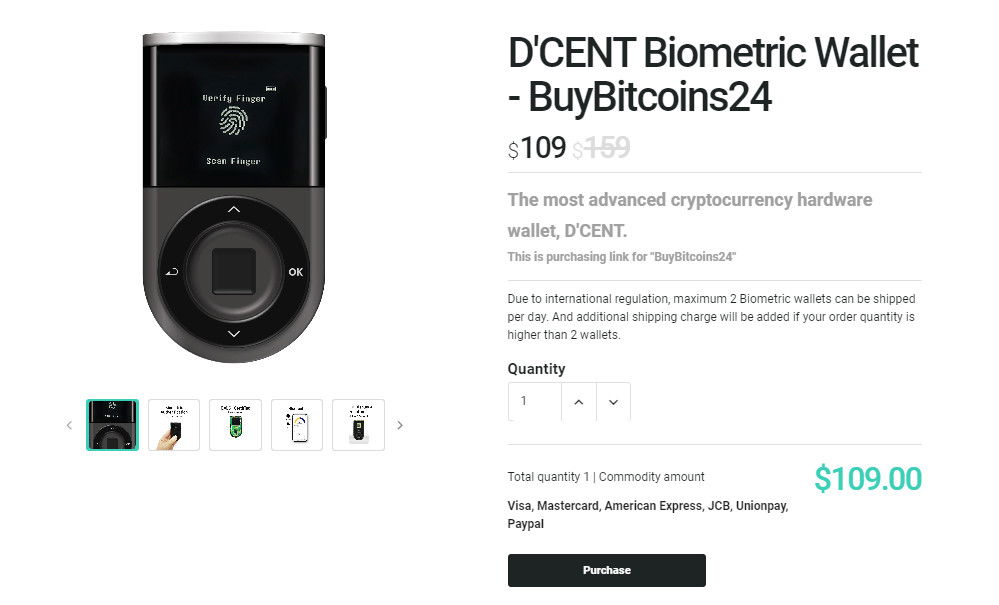 Sources: Vertex.Market, Binance.com, BuyBitcoins24.com