Now, there is no need to dedicate your time and to be an expert to earn money on cryptocurrency market.
Extrum allows you to use different crypto indexes that automatically manage your portfolio to increase profit, minimize the risks, and reduce losses.
Introduction

Crypto index is selecting a group of cryptocurrencies, and they're weighted by market cap. If the crypto market goes up, the market cap will increase, and so will your crypto index and vice versa. There are many benefits of using a crypto index; the first one is that you can spread your risks because your assets are distributed on more than one coin. Also, crypto indexes allow you to invest in the sector as a whole; therefore, you don't need to open a position for each coin when trading.
Creating your own index takes time and experience; that's why tools are doing that job for you. Not only can you choose between tens of pre-made crypto indexes, but also you can view their previous performance and profits.
INVESTING IN CRYPTOCURRENCY:

(-) Without Index

95% of traders earn less than the index
For 5 years, more than 350 coins turned out to be a scam or just closed
Investing without knowledge in crypto has very big risks
Investing without a strategy in the market is always emotion. Emotional actions lead to losses

(+) With Index

A time-tested algorithm is used, which is also used on stock exchanges, in the S&P 500, NASDAQ100 indices.
Proven projects with promising technologies are selected, the presence of institutional investors, the activity of the project development, the fulfillment of the set goals
Diversification of risks and rewards
No risk from providing cryptocurrencies to third parties. You don't need to send your cryptocurrencies or money'
About Extrum
Extrum provides well-proven indexes and functionality to create your own custom indexes/strategies that help to automatically rebalance, create and manage portfolios according to the various market parameters and signals. The system allows you to track your learning progress, see the trades, change and apply strategies on a user-friendly dashboard.
Automation modes:
Pick assets:
This mode allows you to choose specific assets at exact percentages. These values will not change unless you change them.
Create index:
This mode allows you to define parameters for generating an index, the composition of which will shift with the market.
---
Features
After choosing your strategy, you can rebalance your assets manually or let Extrum do it automatically and save yourself some time.
It's essential to monitor and overview your trading performance. You can track your portfolio over different periods on a real-time basis.
Create your own strategies, configure and use pre-defined metrics. Choose an optimal weighting strategy for your cryptocurrency portfolio
Complete trading actions with speed and reliability. React quickly to the changes in the cryptocurrency market
Backtest your strategies.
You can backtest your strategies in order to see how you would perform in similar market conditions.
You can overview each crypto index performance over time and get detailed data; therefore, you have all the information you need before choosing any strategy.
You can be confident when using Extrum that you are safe and protected. Extrum platform uses encryption methods to store your API keys on the servers safely
Extrum has a simple user interface that allows you to navigate the platform quickly and freely. Once you sign-up, you can start by connecting your exchange account. After that, you can begin choosing your strategy and getting access to the platform's powerful tools.

---
How it works
Connect your crypto exchange
Register to the system by connecting your existing crypto exchange (Binance, Kraken, Coinbase etc.). Fill in all required fields in the form. Your API keys will be encrypted.
Choose or create strategy
Create custom strategies and indexes using your own metrics or choose default strategies created by our experts, that will help you to increase your profit and minimize the risks.
Manage your account in different ways:
change algorithms and methods for the strategies
automatically/manually rebalance algorithm
control the performance
see the detailed trades
Integrations
Binance
Kraken
Coinbase Pro
BitFinex
KuCoin
Ascendex
FTX
Poloniex
Safety
Extrum takes your data security seriously. Your API keys on Extrum are encrypted. Also, you're the one in control of the permissions given with your API key. Furthermore, API keys are used only for placing orders; your assets stay on your exchange account.
Pricing
1% commission on the investment amount per year. At the end of the year, of the total amount on the account. With additional replenishment of the exchange account, it is charged for the replenishment amount.
Support channels
There are plenty of options when it comes to support. You can contact Extrum's support team through a Telegram group; you can also email them or send them a message on the website.
Conclusions
Extrum provides well-proven indexes and functionality to create your own custom indexes/strategies that help to automatically rebalance, create and manage portfolios according to the various market parameters and signals. The system allows you to track your learning progress, see the trades, change and apply strategies on a user-friendly dashboard.
Extrum is a great and easy to use trading bot that helps you to trade and hold a range of crypto assets as an index. A unique platform where you can choose a pre-made strategy or create your own.
The simplicity and efficiency of the platform are extraordinary and hard to find elsewhere.You can get started in a few steps and get used to the website the first time using it.
Also, You can set auto rebalancing to customize your holdings according to a periodic or threshold strategy.
---
Additional information: Extrum's index strategies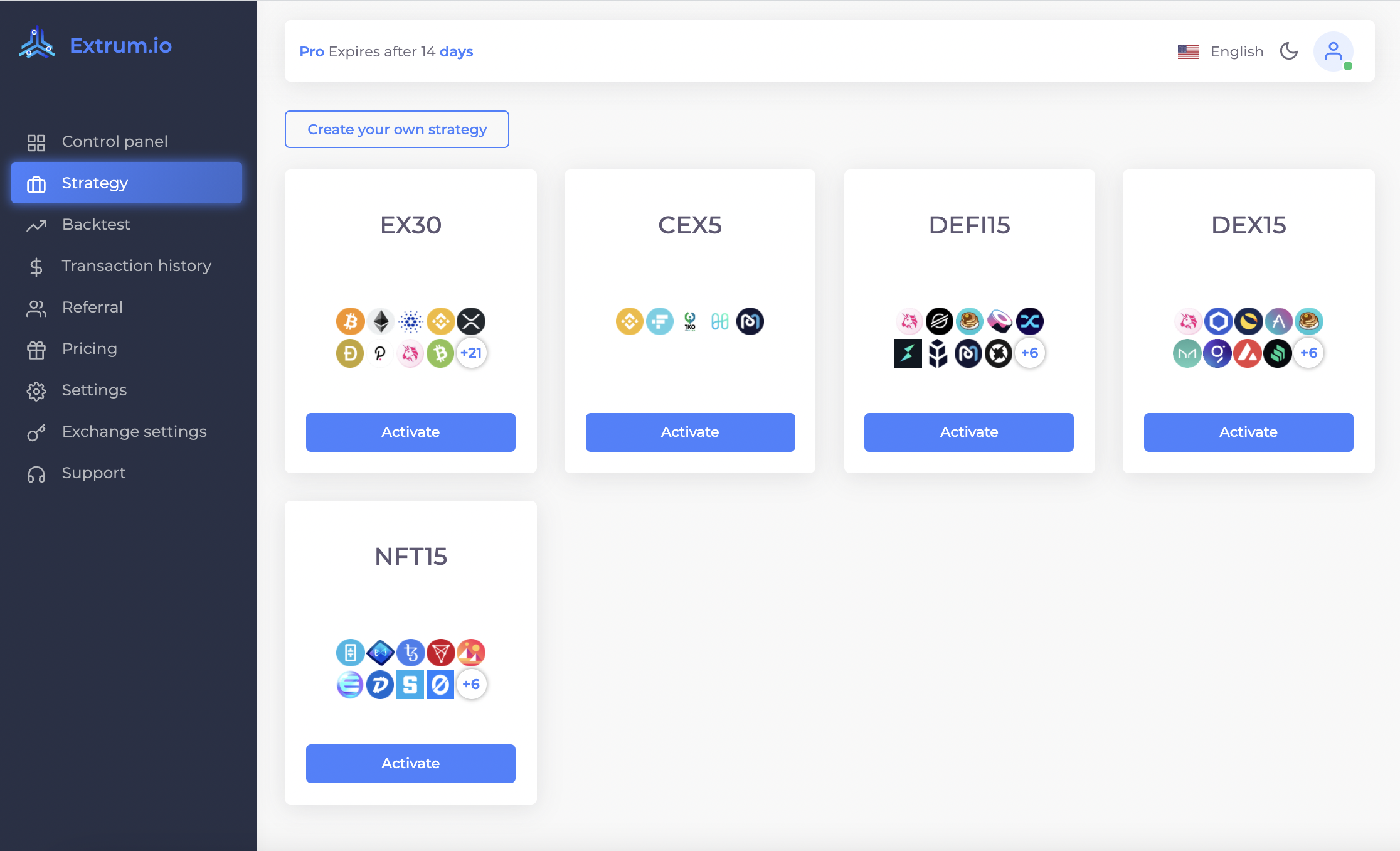 Created according to the S & P500 principle, the index is formed based on the capitalization of the 30 largest crypto currencies and is rebalanced every month. This index serves as a tool for the participation of passive investors who enter the digital asset market for a long time, as well as an industry benchmark for investment managers. Basic principles of the index formation: diversification; reproducibility; transparency; deep coverage of the entire sector; best risk-adjusted performance profile. EXTRUM30 portfolio consists of 30 largest crypto currencies in terms of capitalization.
With centralized exchanges, management and administration rests on the shoulders of one organization, which acts as an intermediary between the two parties. In such exchanges, funds are stored in the wallets of the exchange and at the time of storage by the exchange do not belong to their holders. Due to the fact that everything is stored on one wallet, all operations are carried out instantly, there is no need to wait for confirmation from the miners about the operation. At this point, most people choose centralized exchanges. The tokens of these exchanges make discounts on trading fees, participation in airdrops, in investment projects, and income from mining farms.
Decentralized finance (DeFi) is a collection of blockchain protocols that allows the provision of financial services without the involvement of traditional centralized intermediaries such as banks, brokers and crypto exchanges. Smart contracts are used to enforce the terms of each transaction. The range of DeFi services is constantly growing: trading (`swaps`), loans, staking (analogous to profitable deposits), risk insurance, derivatives, etc. The DeFi15 portfolio consists of 15 tokens of this technology.
The main difference from centralized exchanges is that their backend is on the blockchain. Nobody keeps your funds for you, and you don't need to trust the exchange as much as in the centralized version. All operations are carried out on smart contracts, there is no `human factor`, so there is more confidence in such exchanges. This is a fairly new direction, while fewer people use such exchanges, but their number is growing. The DEX15 portfolio consists of 15 decentralized exchange tokens.
A kind of cryptographic tokens, each instance of which is unique (specific) and cannot be exchanged or replaced with another similar token. A non-fungible token is a certificate of uniqueness of a digital object - a digital cryptographic certificate that confirms the right to own a digital asset (digital artifact, file). The NFT does not prevent the copying of a digital artifact, it only secures the ownership of the original copy of the digital artifact. This technology will make it tenfold easier to secure copyright, remove many intermediaries and will not need confirmation of rights from third parties. The NFT15 portfolio consists of 15 tokens of this technology.
The MVG (MetaVerse & Gaming) Index is an index of the metaverse and gaming tokens / cryptocurrencies. For investment convenience, these interconnected areas are combined into one index. MVG's index strategy makes it easy to invest in these dynamic industries, there are no clear leaders or outsiders in the industry, and many projects are just entering the market. Using this index, the investor selects almost all of the strongest meta and game projects, with the exception of a small number that could not be listed on Binance. You can see the percentage of purchased projects in the index.
---

Featured articles