Kraken is one of the oldest and most popular cryptocurrency exchanges. After reading this article, you will learn how the platform works, how to trade on this exchange, how to deposit and withdraw funds, how much is the commission, as well as what additional features this trading platform has.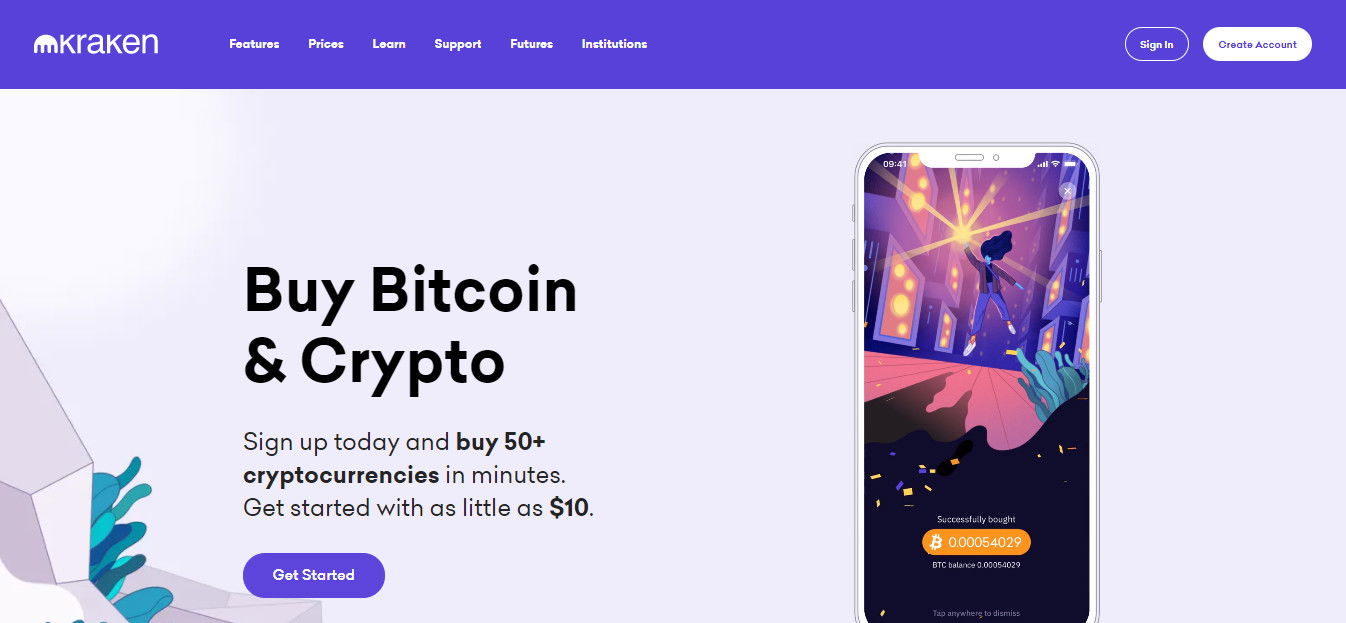 Kraken Exchange: general information
Kraken is one of the TOP 5 largest cryptocurrency exchanges in the world. The exchange was founded in 2011 by Jesse Powell. The official launch of the platform took place in 2013.
The official website of the Kraken Cryptocurrency Exchange & Bitcoin Trading Platform - https://www.kraken.com
The Kraken trading platform is registered in the United States as Payward, Inc. The headquarters is located in San Francisco. In addition, the exchange has offices in various cities around the world, including London, Chiyoda (Japan) and Singapore. According to Craft.co Kraken has received more than US $ 126 million in venture capital. Due to this, the exchange has acquired a number of crypto-oriented startups, such as CryptoWatch, CleverCoin, Coinsetter, Cavirter, Bit Trade, Crypto Facilities and InterChange.
Kraken is a self-regulating exchange, that is, it develops its own security policy and operating rules. At the same time, it complies with the rules and regulations in many supported jurisdictions. It is registered as a Money Services Division (MSD) in FinCEN in the USA and FINTRAC in Canada. Kraken Futures is regulated in the United Kingdom by the Financial Supervisory Authority.
By 2014, Kraken held a leading position in the euro/bitcoin trading pair. In 2015, the exchange added the ability to buy Ethereum and took the second place in the world for the exchange of BTC/ETH. The exchange serves more than 7 million customers in more than 200 countries.

The range of cryptocurrencies
The Kraken has almost 60 coins, and it deals with 7 fiat currencies. This is not the largest selection of digital currency that you will find, but it is comparable to some of the best cryptocurrency exchanges, and compared to many brokers that offer only a few well-known coins, Kraken has a significantly larger list of coins.
Kraken works using currency pairs, but all its currencies can be exchanged for others.
Supported cryptocurrencies:
Bitcoin (BTC), Ethereum (ETH), Bitcoin Cash (BCH), Litecoin (LTC), DASH and others.
Supported Fiat currencies: USD, EUR, CAD, AUD, GBP, CHF и JPY.
Payments in fiat currency are made via bank transfer. The SEPA payment system is also supported for users with a bank account in the European Union.
The capabilities of the Kraken
For beginners, the exchange has a resource center that can help you get acquainted with the basics of trading cryptocurrencies.
For advanced users, the exchange has almost the entire set of order types, margin, futures trading and Kraken-OTC desk.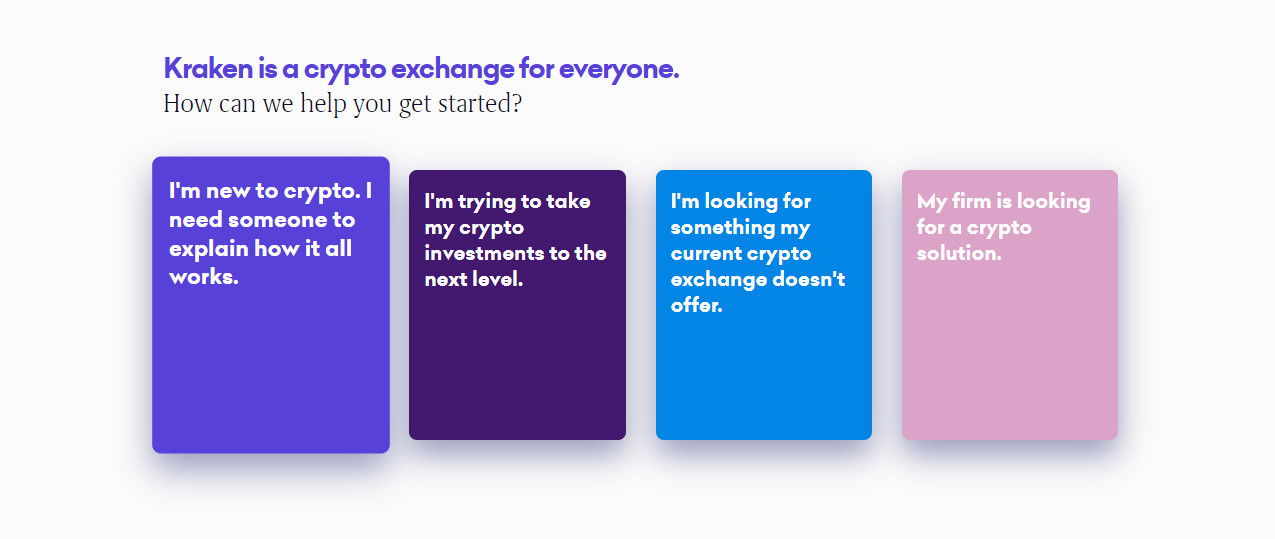 For trading on the Kraken exchange, a user can use 100 trading pairs. 40 % of all transactions are made on the BTC/USD pair.
There are several types of orders on the Kraken exchange:
Market - Intended for immediate execution. In fact, this is an exchange at the current market price.
Limit - allows the trader to carry out a purchase/sale transaction at the price that he sets himself. The order is executed only when there is an offer on the market that corresponds to the user's request. This can take a significant amount of time.
Advanced orders (stop loss, take profit, stop loss limit, take profit Limit) - These orders are associated with the setting of a certain price or loss by the trader, after which the order is triggered.
Trading mode settings are also available:
Simple - Only the price or the number of coins and the type of order — limit or market-are configured.
Average - The price or number of coins, the type of order, leverage, transaction time, commission currency are configured.
Complex - Additional types of advanced orders and their settings are added.
Creating a Kraken account
As we've discussed, qualified users can access margin, stop orders, and crypto short sales on Kraken. It also lets you stake coins to earn interest if you leave that currency untouched in your account.
To set up a basic account, you'll need to provide information, such as your name, date of birth, and address. You need to be over 18 and live in a supported area.
It has three levels of verification:
Starter: This basic account lets you deposit, exchange, and withdraw cryptocurrencies, but you can't do much more. You can't withdraw or deposit fiat currencies, so you'll need to upgrade if you want to move dollars into crypto.
Intermediate: To upgrade to an Intermediate or Pro account, you'll need to provide a valid photo ID (such as a passport or driver's license), proof of residence (such as a utility bill), and your Social Security number or ITIN. Once you've upgraded, you'll be able to deposit fiat and trade on Kraken futures.
Pro: The Pro level unlocks higher account limits and also gives access to the anonymous "dark" trading pool and over-the-counter desk. The desk facilitates large orders without causing price disruption on the public exchange.
Fees overview
Like many exchanges, Kraken uses a maker-taker fee structure. It gives reductions to those with large trading volumes.
Fees for cryptocurrency deposits and withdrawals depend on the currency. For example, you'd pay 0.00015 BTC to withdraw Bitcoin with a minimum of 0.00050 BTC.
Funding fees
| TRANSACTION | MINIMUM | FEE |
| --- | --- | --- |
| FedWire (MVB Bank / Signature Bank) | $1 | Free |
| FedWire(Synapse) | $20 | $5 |
| FedWire (Silvergate) | $100 | $10 |
| FedWire(Etana Custody) | $150 | Free |
| Instant buy | -- | 0.9% fee for stablecoins* and FX pairs. 1.5% fee for any other crypto |
| Cryptocurrency deposit/withdrawal | Depends on currency | Depends on currency |
Maker-taker fees
| 30-DAY VOLUME | MAKER | TAKER |
| --- | --- | --- |
| $0 - $50,000 | 0.16% | 0.26% |
| $50,001 - $100,000 | 0.14% | 0.24% |
| $100,001 - $250,000 | 0.12% | 0.22% |
| $250,001 - $500,000 | 0.10% | 0.20% |
| $500,001 - $1,000,000 | 0.08% | 0.18% |
| $1,000,001 - $2,500,000 | 0.06% | 0.16% |
| $2,500,001 - $5,000,000 | 0.04% | 0.14% |
| $5,000,001 - $10,000,000 | 0.02% | 0.12% |
| $10,000,000+ | 0.00% | 0.10% |
Stablecoin and FX pairs
Fees are slightly higher to trade Stablecoin and FX pairs:
| 30-DAY VOLUME | MAKER | TAKER |
| --- | --- | --- |
| $0 - $50,000 | 0.20% | 0.20% |
| $50,001 - $100,000 | 0.16% | 0.16% |
| $100,001 - $250,000 | 0.12% | 0.12% |
| $250,001 - $500,000 | 0.08% | 0.08% |
| $500,001 - $1,000,000 | 0.04% | 0.04% |
| $1,000,000+ | 0.00% | 0.00% |
The safety of the Kraken
Kraken is one of the most secure online cryptocurrency exchanges in the world. The exchange offers users two-factor authentication (2FA), PGP encryption and settings blocking, which prevents any account changes in a certain period of time.
For all the time of its existence, Kraken has not been hacked, but there have been cases when the accounts of careless users were hacked due to the lack of 2FA security.
Kraken is a high level of security, advanced crypto trading and low commissions.

How to buy and sell cryptocurrencies and FX on Kraken
Before you can start buying and selling, you'll need to deposit funds into your Kraken account.
Once your account is funded, you can use this guide to place your first order!
Note: Kraken has a variety of trading options and order types. To simplify the task, we will consider the option of an instant purchase, as well as a basic Market or Limit order.
Getting started with Kraken
Kraken make buying bitcoin safe and easy. Just follow these simple steps to get started:
Sign up for a Kraken account
Provide an email address, choose a username, and pick a strong, secure password.
Verify your account
With "Starter" verification, you can buy BTC with other cryptocurrencies. All you need to do is provide your name, date of birth, country and phone number. If you'd like to use fiat currencies, like USD or EUR, you'll need to provide additional support documents verifying your identity.
Deposit fiat or cryptocurrency
To deposit crypto, just create a deposit address and send the funds to this address. Funding your account with fiat currencies for trading can be done in a number of ways, including SWIFT, SEPA and domestic wire transfers. The option you select will be based on your location and preference.
Start buying bitcoin!
Once your fiat or cryptocurrency hits your account, you're ready to start buying bitcoin. With your Kraken account you'll also have access to charting tools, 24-hour global client support, advanced order types, and leveraged trading.
---

Instantly buy crypto on Kraken
The quickest way to buy, sell and convert crypto instantly is using the "Buy Crypto" button at the top of the page. Not all cryptocurrencies will be available via this option. Transactions using the Instant Buy/Sell Services are subject to fees. You are presented with the applicable fees after selecting 'preview buy' before entering into the transaction.
Trading on the exchange
1. Select currency pair
First you'll need to know what assets you would like to exchange, for example buying Bitcoin (BTC) with your USD, or selling Ethereum (ETH) for euros. After you know which pairs you'll be trading, you can select them from the ticker/quote bar near the top left corner while viewing the "Trade" tab.

The first currency in a pair represents the base currency, while the second in a pair represents the quote currency.
In a Buy order: you pay the quote currency, and receive the base currency.
In a Sell order: you sell the base currency, and receive quote currency.
From here you can select any of the trading pairs.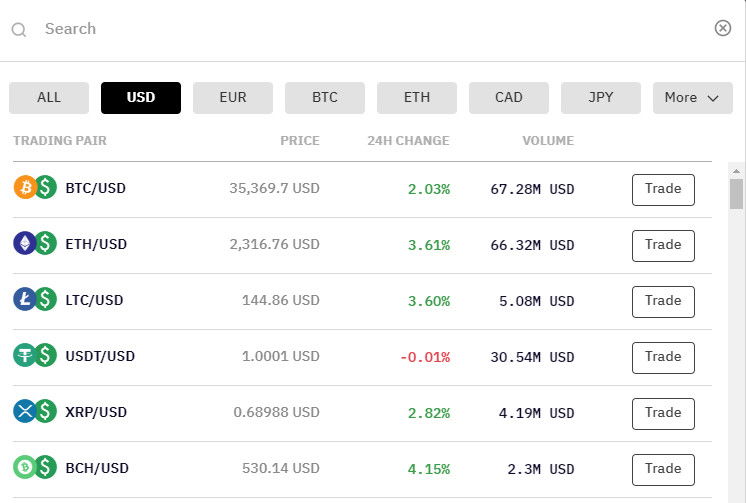 2. Fill out order form
After selecting your trading pair, go to the "New Order" page and select the "Simple" form.

Here you'll see three text boxes and the option to use a Market or Limit order. Before we input values into these boxes, knowing how a market or limit order works is necessary.
A Market order is meant for immediate execution, as it will match with Limit orders that are already available on our order books. Market orders will always incur a slightly higher fee known as a taker fee (the second percent beside your 30 day volume). With market orders you can only input the volume you would like to buy or sell and not the price.

Limit orders will execute at the price you've set or better, once the market reaches your limit price. They can be subject to maker or taker fees depending on when it executes. If a matching order already exists and it's executed immediately, then taker fees will occur.

3. Submit order
Once you've decided on if you're looking for a market or limit order, you can select your choice with the buttons to the left of the "Total" field.
After things look good you just need to press the large buy/sell button and you'll be brought to an order confirmation screen for a chance to double check your order.
This screen can be avoided if the "Skip order confirmations" box is checked.

Note: the order confirmation page will truncate (not round) the amount of cryptocurrency to spend/receive based on that cryptocurrency's price precision (rather than the volume precision). The extra volume not shown is still included in the order.
For example, an order for 1.19 Bitcoin (BTC) will only show up as 1.1 BTC, but the remaining 0.09 BTC is still included in the order.
4. Wait for order execution
If a market order is selected, the trade will happen instantly and your balance will change. Funds can be withdrawn or used to trade again right away. You can view successfully executed (closed) market orders on the "Orders" tab.
Limit orders may not be filled right away but you can view their status in the "Orders" tab. In the below example, the BTC/EUR price would have to fall to 25 for the limit buy order to be executed.If your order has not yet been executed you are able to cancel the order be selecting the red x button under 'New & Open Orders'.

---
Why the Kraken?
Kraken is not only a bitcoin and cryptocurrency platform for buying, selling, trading cryptocurrencies, but also the best place to study the cryptocurrency market, develop skills and improve the experience of trading cryptocurrencies.
Kraken is right for you if:
You are an experienced trader who wants to use advanced features such as margin.
You are a crypto investor who is ready to increase your level with the help of a large number of coins and additional features. You are a beginner and want to start your crypto journey together with a recognized leader of the cryptocurrency industry, using the best resource and educational center of Kraken.
You put security at the top of your priorities and want to entrust your crypto assets to reliable hands.
Alternatives to the Kraken exchange
Alternatives to the Kraken exchange are the cryptocurrency exchanges Bittrex, Coinbase, Binance and Bitfinex.
---
Have you read this article to the end? Then a gift for you! Follow this link and get a 30% discount when buying the world's only biometric hardware wallet D'CENT.