Invity is a cryptocurrency platform that aims to make every type of cryptocurrency transaction accessible and economical for everyone. After a brief introduction, we'll take a look at the design components and innovative features that make this possible.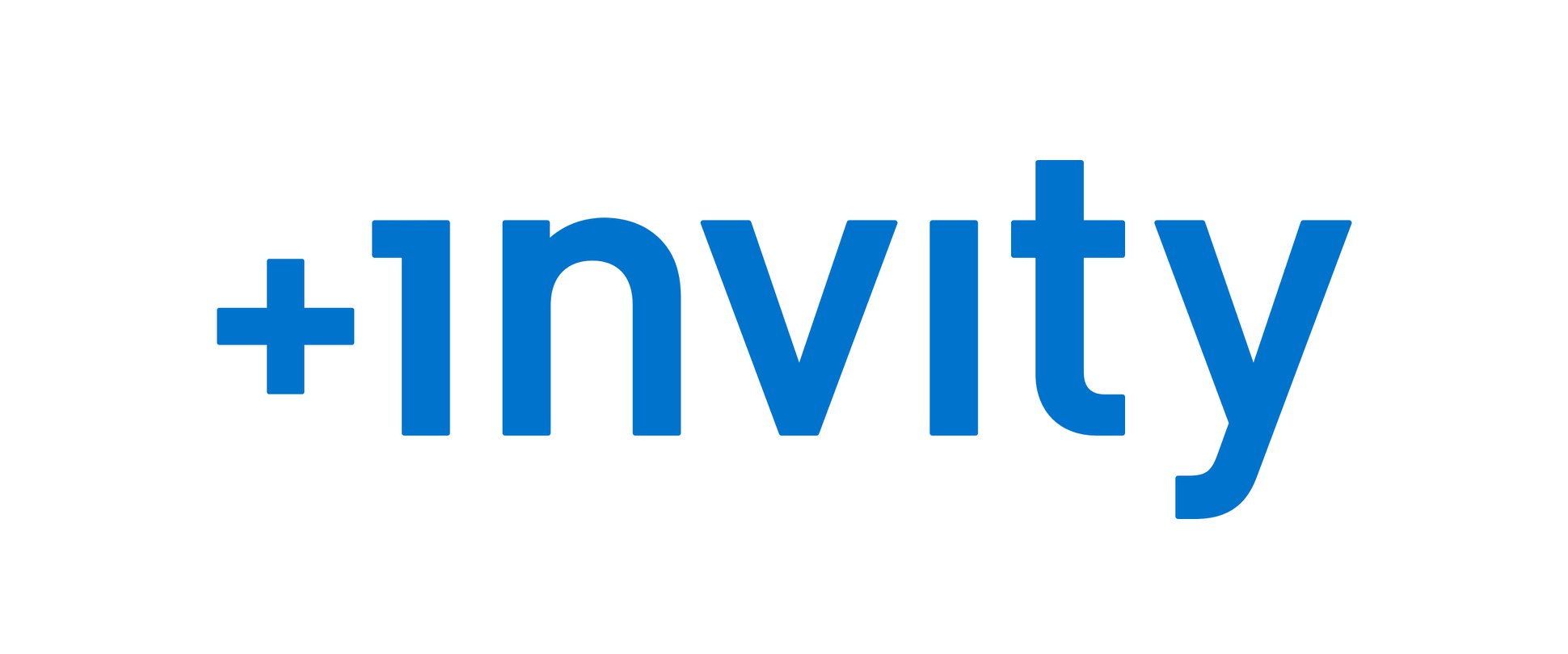 What is Invity?
Invity is an online comparison tool that collects cryptocurrency offers from across the web all in one easy-to-use comparison tool. Users can compare exchange rates and payment methods to ensure they get the best deal. Once an offer has been selected, each transaction takes place in a single unified interface so that buying, exchanging, and selling are all familiar experiences. This makes Invity both a user-friendly platform for investors who are completely new to the crypto space as well as a time-saving device for more experienced crypto users.
Currently, 14 non-custodial providers include their offers in Invity's comparison tool, and this number is constantly growing. Invity carefully vets each partner to ensure know your customer (KYC) and anti-money laundering (AML) compliance as well as the availability of reliable support. New providers are strategically added to increase worldwide coverage.
In Invity's Buy feature, users from at least 148 countries can use 29 of the world's major fiat currencies to buy crypto instantly. Users can also select from 10 payment methods, from international methods like Visa and MasterCard to regional methods like SEPA bank transfers, SOFORT, and Australia Post Billpay. Popular cryptocurrencies like Bitcoin (BTC), Ethereum (ETH), Litecoin (LTC), and Dogecoin (DOGE), can be bought directly through the Invity platform.
Invity's Exchange feature offers access to dozens more cryptocurrencies; a total of 723 exchange pairs are supported at the time of writing. Using Invity's newest feature, Sell, European users can convert their crypto to cash. This will be expanded to even more users in the coming months.
Invity is also the exclusive purchase and exchange platform for Trezor hardware wallets, including the gold-standard Trezor Model T. Invity's Buy, Exchange, and Sell features form an integral part of the Trezor Suite coin-management interface currently undergoing public beta testing. This means users who take their security seriously with Trezor devices can now take convenience just as seriously. Trezor Suite also includes an exclusive Spend feature, allowing users to spend their crypto on gift cards redeemable at worldwide retailers.

First impressions: Invity is inviting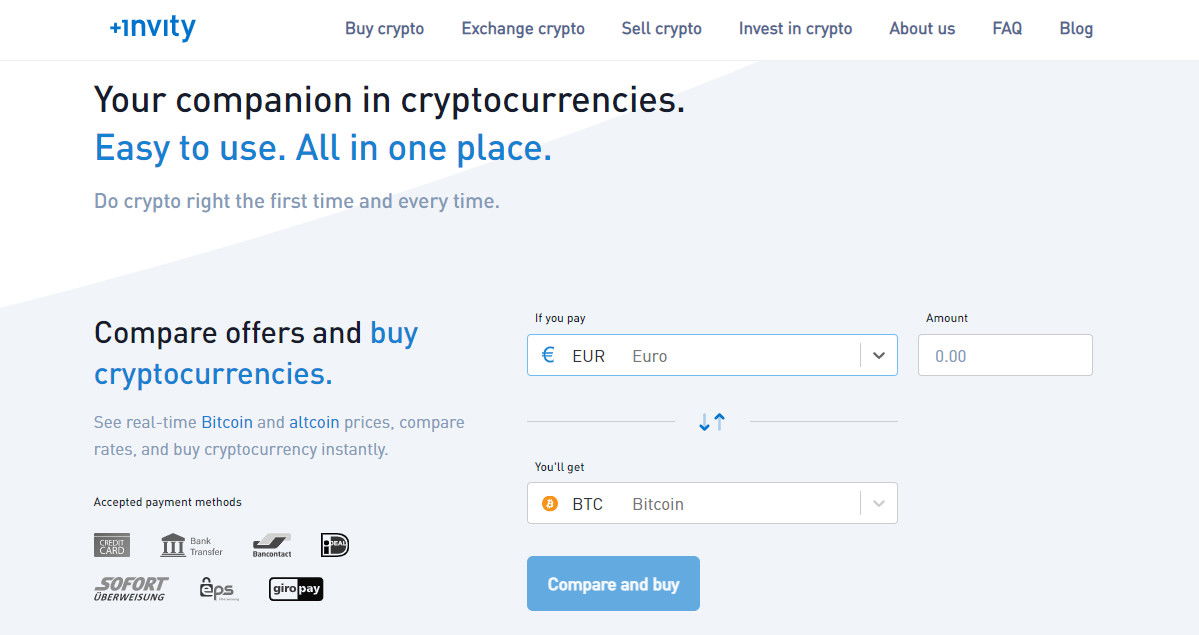 When first navigating to Invity.io, users are met with a light and airy home page free of intimidating stock tickers or performance charts. Instead, a few clear, friendly statements of purpose and an uncluttered layout invite users to take their time when stepping into the world of crypto. Centered neatly above the fold is the comparison tool for buying cryptocurrencies using fiat currencies. Some information is automatically filled in based on the user's geographic location, though drop-down menus make it easy to select the ideal fiat currency and cryptocurrency pair. Also immediately apparent is the range of possible payment methods that may be included in each list of offers.
Menu tabs at the top of the screen indicate Invity's main features: Buy, Exchange, and Sell. Invest in crypto teases a forthcoming feature that will automate buying Bitcoin at regular intervals, essentially giving users a Bitcoin "savings account" based on the principle of dollar-cost averaging. Alongside standards like an about page and FAQs, the menu also includes a link to Invity's educational blog, which presents need-to-know crypto topics in a way that is accessible to brand-new crypto users.
As users navigate the home and other pages, the open and jargon-free tone is what is truly striking. Derogatory terms like "nocoiner" are absent, as are niche terms like "hodl", though these and other terms of art are discussed simply in explanatory materials crafted in-house. The overall impression is of a thoroughly inviting and highly usable platform that makes crypto transactions easy for new and experienced users alike.
User experience: Simple from start to finish
Whether users choose to buy or exchange crypto, the interface and process are largely the same. The Buy crypto feature, for example, can be accessed either through the home page or its dedicated menu tab.
The comparison tool's uppermost fields are clearly labelled and automatically fills the "If you pay" field with the most likely fiat currency for that user, though the option to select a preferred alternative currency is available through a simple drop-down menu. The "Amount" field is set to zero, naturally inviting users to input the amount of fiat currency they are interested in converting to crypto. Below these fields, users can select their preferred cryptocurrency from a drop-down menu. It is also possible to select the double arrow icon between the currency fields if users prefer to input the amount of crypto they would like to end up with.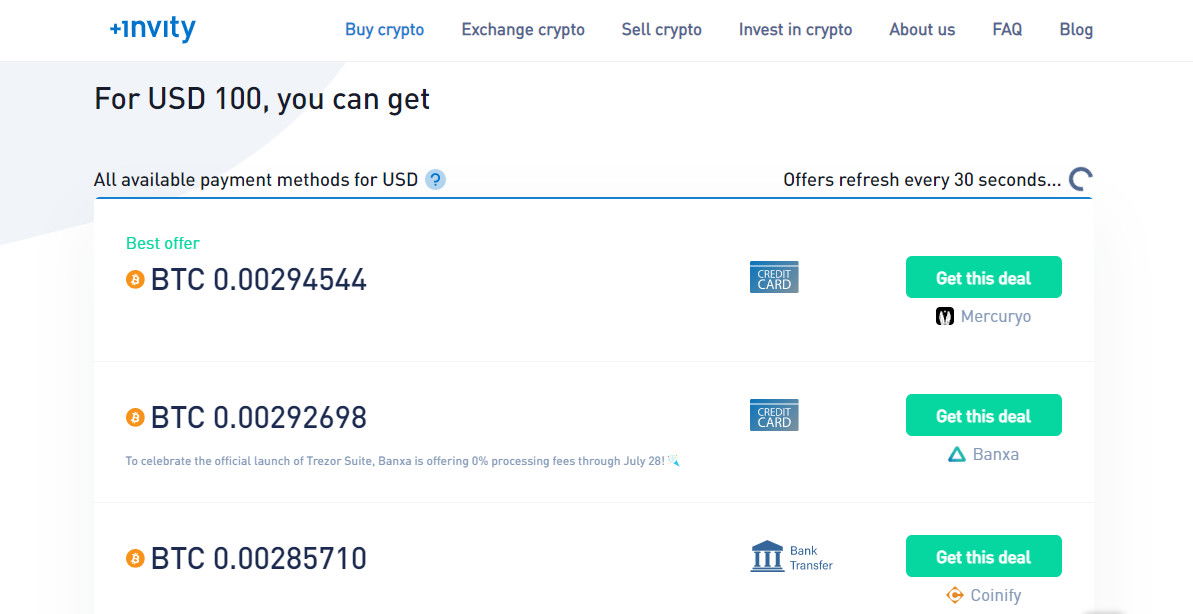 Once a visitor has input an amount into the comparison tool and selected the "Compare and buy" button, the site automatically presents a list of offers. These are shown in large characters on the left of the table, and the most cost-effective offers always appear at the top. Each entry on the list represents the rate offered by a given provider, who can be clearly identified by the logo on the right side of the table. If a provider offers multiple payment methods, indicated by the icon in the center of the table, a separate offer appears for each method. Each offer includes all associated fees, so users know exactly how much they will spend and receive. Offers are in real-time and refreshed every 30 seconds.
Exchange crypto results are divided into fixed-rate offers, which are locked in once selected, and floating-rate offers, which may be subject to market fluctuations. These too include all fees and are updated every few seconds.
Once users select the offer that they prefer, a pleasant reminder to take appropriate safety precautions appears. These tips are especially useful for users making their first crypto transaction. Users are then directed to the actual transaction interface, where they can double-check the transaction they selected and simply input their crypto address. If new users need help finding their address or getting started with a cryptocurrency wallet, links to Invity's own explanatory materials again come in handy.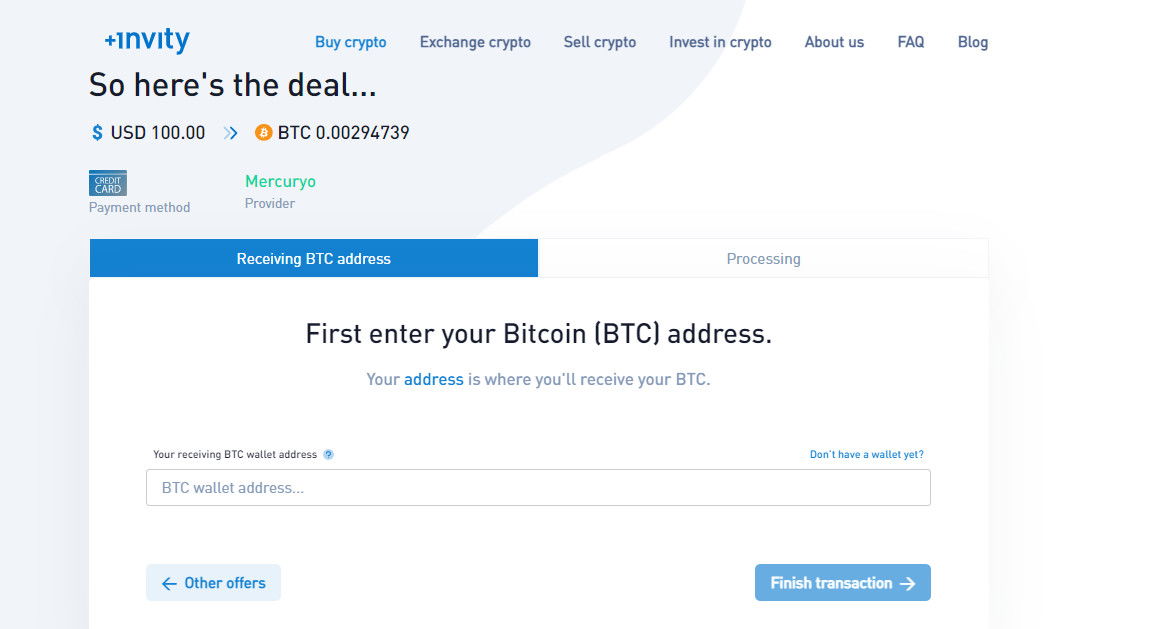 Transactions are completed on a page constructed by the selected provider and dedicated solely to Invity traffic. If this is a user's first transaction with a partner, they may be required to complete appropriate KYC procedures. This is typically a one-time process, so once a KYC process has been completed users can simply log in again if necessary. The KYC and payment processes are the only steps that take place outside of Invity's environment, meaning Invity connects users to the best offers but doesn't keep any identifying information.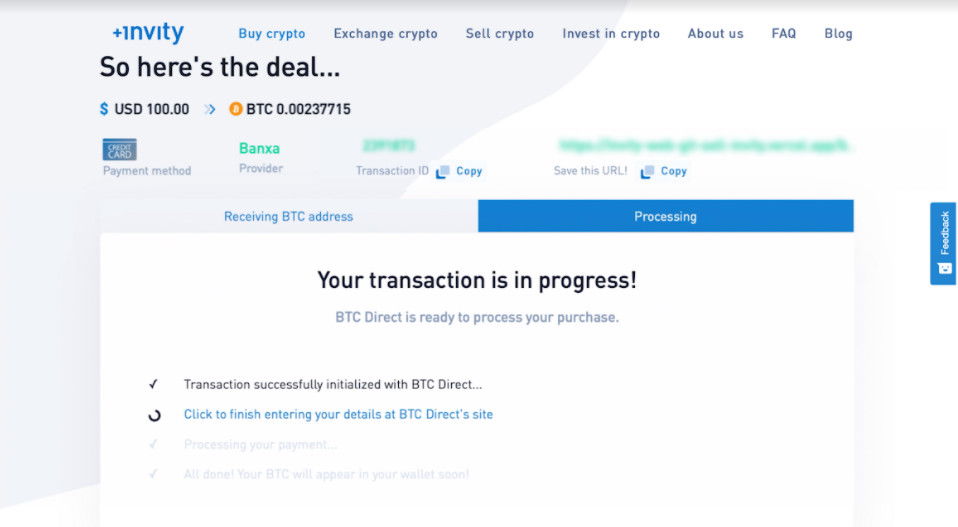 Once the transaction has been processed, users are directed back to Invity, signalling the end to a painless process. Users can then look forward to their coins being directly deposited into their wallet, or they can continue comparing the many purchase and exchange options available through the Invity platform.
Invest in crypto: Treat crypto like a savings account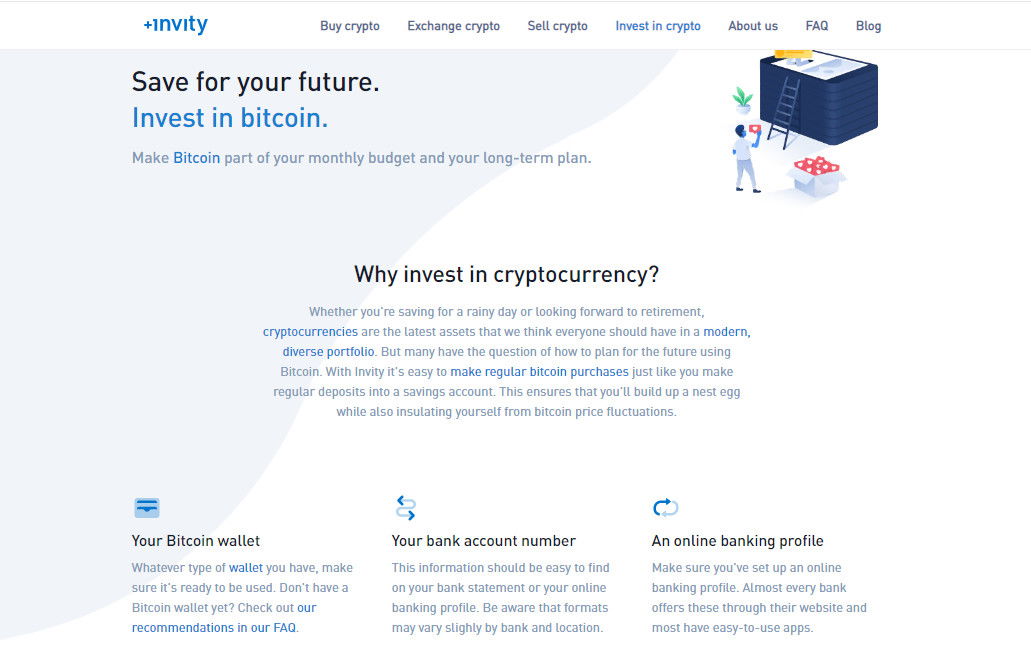 Invity's most exciting feature is still upcoming, but the outline can be found under the Invest in crypto menu tab. After finalizing agreements with international banking partners, Invity will allow users to set up recurring cryptocurrency purchases on a regular basis just like making regular deposits into a savings account. This will make building up a nest egg super convenient, requiring only a one-time setup that can be tweaked at any time. Just as important, crypto investors will be able to take advantage of a dollar-cost averaging strategy to insulate themselves against fluctuations in crypto markets. To contribute to this upcoming feature, interested users can take a five-minute poll to inform us about their investing practices.

Summary: A friendly way to start out with crypto
Invity is a platform that makes using cryptocurrency easy. A comparison tool with multiple vetted exchange partners means that competitive rates and flexible buying options are available with the greatest degree of convenience and trust. A jargon-free interface that smoothly guides users between each step in the buying or exchanging process without the need for technical know-how makes crypto transactions simple. Investing and education features allow users to safely make informed decisions when adding crypto to their portfolio. Put simply, Invity is the ideal one-stop-shop for every crypto user.

Top features:
Buy crypto instantly with fiat currencies
Invest in crypto savings plans
Trezor hardware wallet integration
Detailed crypto education features
---

---
Have you read this article to the end? Then a gift for you! Follow this link and get a 30% discount when buying the world's only biometric hardware wallet D'CENT.