Investing in bitcoin is both simple and difficult at the same time. On the one hand, participants of the cryptocurrency market offer many ways to invest in bitcoin and convenient tools for implementing trading and investment strategies. On the other hand, cryptocurrency exchanges, peer-to-peer marketplaces, brokerage offices, platforms for instant purchase/sale of cryptocurrencies require identity verification and a mandatory KYC procedure.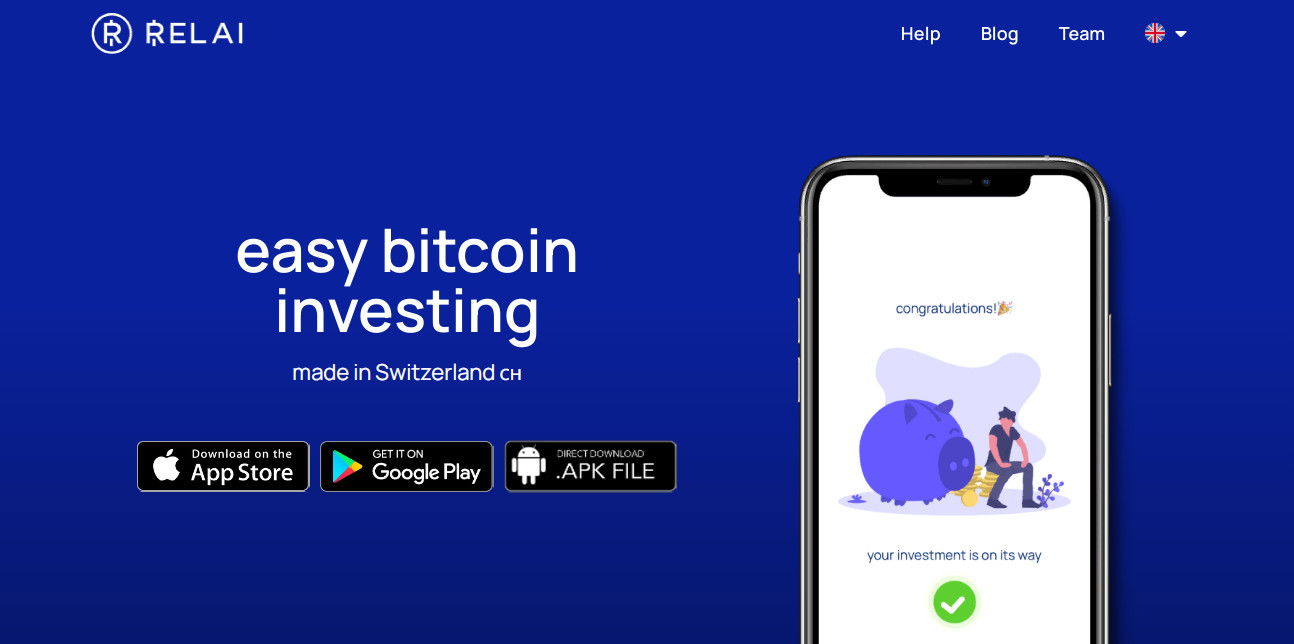 The Relai team from Switzerland has created an application for buying and selling bitcoin, which within a few minutes allows any user from the countries of the European Union and Switzerland, using IBAN, to invest confidentially in bitcoin without the need for preliminary replenishment of the account, without registering an account, without identity verification and KYC. The Relai app is an ideal solution for both small and large bitcoin investors.
Auto-investing in Bitcoin without KYC
With the help of the Relai app, you can not only buy bitcoin without registration and without KYC, but also invest in bitcoin weekly or monthly in a fully automated way, without intermediaries, by setting up regular bank payments.
As a result, Relai users can benefit from the potential increase in the value of bitcoin over time without worrying too much about the volatility of the digital currency.
Thus, one of the most popular strategies for investing in bitcoin is implemented – Dollar Cost Averaging (DCA).
So, to start automatically investing in Bitcoin using Relai, no identity verification or KYC registration process is required. You simply download the application, enter the amount of bitcoins that you want to buy weekly or monthly, and then set up a regular bank payment to the Relai brokerage partner - the Bity company, using your specific payment link.
What is Dollar Cost Averaging?
Dollar-Cost Averaging (DCA) is an investment strategy that involves the purchase of a fixed amount of an asset in a traditional currency (dollars, euros, Swiss francs, etc.) at regular intervals over a long period of time.
The main concept of the DCA strategy is to "smooth out" volatility by investing a fixed amount in dollars at the same time every week (or month), regardless of where the asset price is traded.In addition, this strategy allows investors to create a significant position in an asset or a basket of assets without having to invest a large initial capital.
Moreover, it allows investors to benefit from compounding both the returns from the initial investment and from weekly (or monthly) investments in order to increase the returns over time.
By buying a certain amount every week or month, bitcoin investors are building significant positions in an asset that they believe will multiply in price in the coming years.
Buying a small amount of bitcoin on a regular basis-ideally in an automatic mode-allows even small investors with small capital to start building a significant position in bitcoin.
When you use the Dollar Cost Averaging strategy, you get a return on your initial investment and on every additional investment you make (provided that the asset or basket of assets increases in value over time).
Moreover, you also receive income from the income you receive, since they are usually reinvested automatically.
Features of the Relai App
You can start buying & selling bitcoin within a few seconds using your own bank account
You don't have to set up an account or submit any personal data, you keep your privacy
You don't have to go through any boring verification processes or upload any documents
You don't have to park your money anywhere and we never have access to your funds You don't make a deposit with Relai, but buy directly from your bank account
You can set up an automatic weekly recurring order and save bitcoin while you sleep
No hidden or unexpected fees
Relai's 3% fees include everything. If you use promo code «12088», then the Relai fees for you will be reduced by 0.5 %, from 3% to 2.5% forever!
You profit from best-in-class security standards, even if we get hacked, your bitcoin are safe
Other exchanges store your bitcoin for you, with Relai you are always in control of your bitcoin
---
Get the Relai App now: The easiest way to invest in Bitcoin
Referral code BuyBitcoins24-Relai: REL12088 😎
If you use it for investing in Bitcoin with the Relai App, you pay 0.5% less in fees! 👍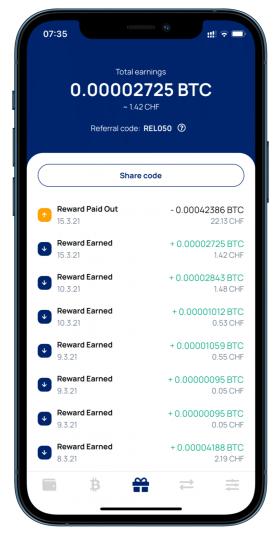 ---
Is it legal for Relai to operate without client verification?
Yes, it is legal.
Control over cryptocurrencies has been increasing recently. On January 10, 2020 the Fifth Anti-Money Laundering Directive (5AMLD), which was adopted in the EU in May 2018, came into force. The directive contains requirements for mandatory verification of all customers of crypto platforms in accordance with the KYC and AML standards, according to which all users conducting transactions with cryptocurrencies must be verified.
Relai is essentially a Bitcoin ATM, just a digital one. You invest money and get Bitcoin, and vice versa. Relai never holds your funds and is also regulated as a Bitcoin ATM, namely as a cash exchange business. Such business can be carried out without the need for registration or verification of customers, as long as the European and Swiss anti-money laundering laws are observed. For Relai, this basically means that the sender of money and the recipient of Bitcoin are the same person, and that no client exchanges more than €900 / 1000 CHF per day and €90.000 / 100.000 CHF per year. Relai does provide this with its setup, and so yes: it's legal!
How to buy Bitcoin is easier -
using the Dollar Cost Averaging (DCA) strategy, without registration, identity verification and without the KYC procedure
Step 1.
Download the Relai app from Google Play or the App Store.
Log in to the Relai app, come up with and set a personal 4-digit PIN code. The wallet is created automatically.
Step 2.
Click "Buy".
Insert the amount of bitcoin that you want to buy in EUR or CHF.
Decide whether you want to apply the Dollar Cost Averaging (DCA) strategy on a weekly or monthly basis.
Choose how often you want the purchase to occur (you can automate the purchase every week or month).
Insert the IBAN from which you will pay, and the referral code (if you have one).
Click "Next" to get instructions for a regular bank transfer, which you need to set up on your bank account.
You can use the discount code "REL12088" to save 0.5% of fees forever (Relai Transaction Fees are 3%, but taking into account the discount when using the code "REL12088" – your fees will be 2.5%).
Step 3.
Go to your online banking app or website and create a bank transfer using the data that you see on the screen in the Relai app.
Enter the payment information in your banking application or online banking portal and set up a recurring payment for Relai, confirm the auto-invest transaction in the Relai app.
That's all! You are now set up for Dollar Cost Averaging (DCA) at weekly or monthly intervals. The Bitcoin will appear in the Relai app as soon as the bank transfer is received.
Don't forget to make a backup of your wallet in the settings, so as not to lose access to your bitcoin if you lose or break your phone.
Limits for buying and selling bitcoin
There are some volume limits due to anti-money laundering regulations, fraud detection systems, and business reasons. These limits apply to both the purchase and sale of bitcoin.
Your first purchase can't be higher than €100 / 100 CHF
The minimum purchase amount is €10 / 10 CHF
The minimum sell amount is 0.001 BTC
You can buy and sell at most €900 / 1000 CHF per day
You can buy and sell at most €90.000 / 100'000 CHF per year
Please note that the daily limit of 1000 CHF (approx. €900) is always valid within 24h and not per calendar day.
This is the AML requirement of FINMA. With these amounts, money exchange transactions are not subject to registration or licensing and therefore no KYC/AML is required.
Who can buy and sell Bitcoin using the Relai app?
Users from the European Union (EU) countries from Germany, France, Italy, Poland, Romania, the Netherlands, Portugal, Greece, the Czech Republic, Belgium, Hungary, Sweden, Austria, Bulgaria, Denmark, Slovakia, Croatia, Lithuania, Latvia, Slovenia, Estonia, Luxembourg, as well as Switzerland can buy bitcoin without verification and identity authentication using the Relai app using a valid IBAN number from a bank account.
---
How to Buy Bitcoin and Send it Directly to an External Wallet Using Relai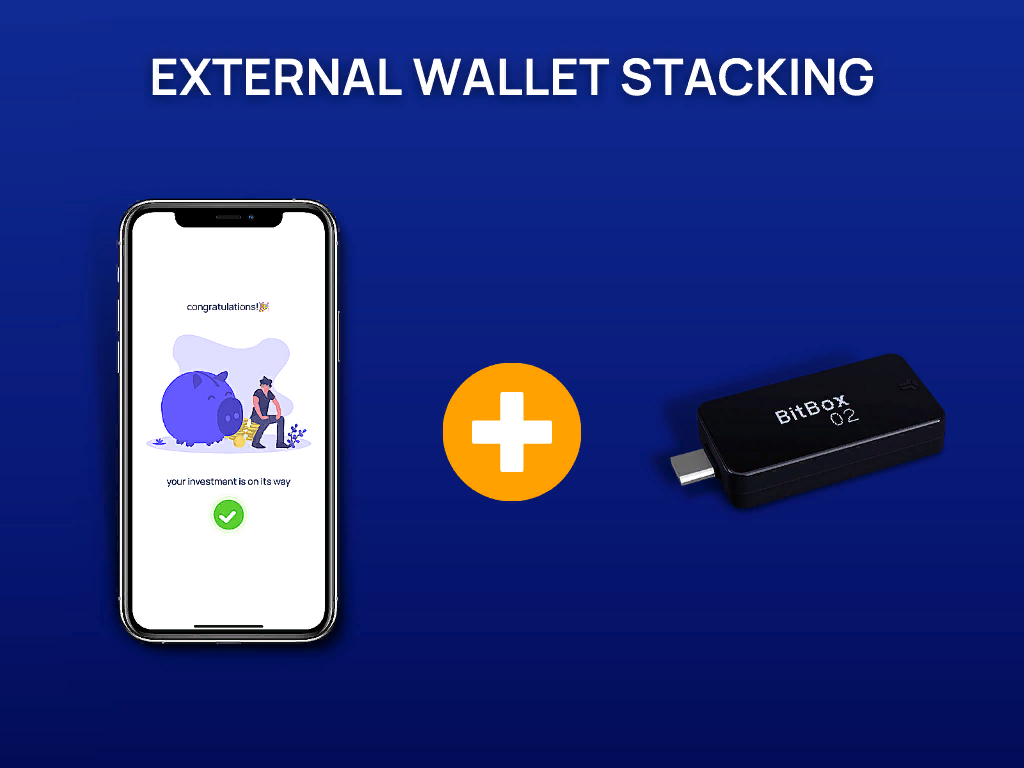 Relai now allows all users to choose between buying and storing bitcoin in their Relai wallet or an external wallet.
The idea behind this move is to allow people to save bitcoin directly into their hardware wallets for increased security.
In this guide, you will learn how to buy bitcoin using the Relai app and send the coins directly into an external wallet.
How to Save Bitcoin in an External Wallet Using Relai
Thanks to newly introduced external wallet stacking feature, Relai users can now stack sats directly in their hardware wallets (or any wallet that allows users to sign messages).To buy bitcoin and send your coins automatically to your hardware wallet using Relai, you need to take the following steps:
Open your Relai app.
Type in the amount of bitcoin you want to buy (or auto-invest on a weekly or monthly basis) and click 'Next.'
Enter your IBAN from which the payment for the bitcoin purchase will come, and add a referral code "REL12088" to save 0.5% fees.
Toggle the "buy to external wallet " .
Copy and paste the bitcoin wallet address from your external wallet of choice into the wallet address field or scan the QR code provided by your external wallet.
Click 'Next' and sign your message by copy and pasting the text provided by Relai into your external wallet's message verification section.
Then, sign the message and copy the signature provided by your external wallet into the bar in the Relai app that says "paste your signature here".
Click 'next,' and make the payment using your mobile banking app (but don't forget to add the transaction reference code to your bank payment).
Confirm the transaction.
And that's it! 😁. Your bitcoin will arrive in your external wallet as soon as the bank payment settles.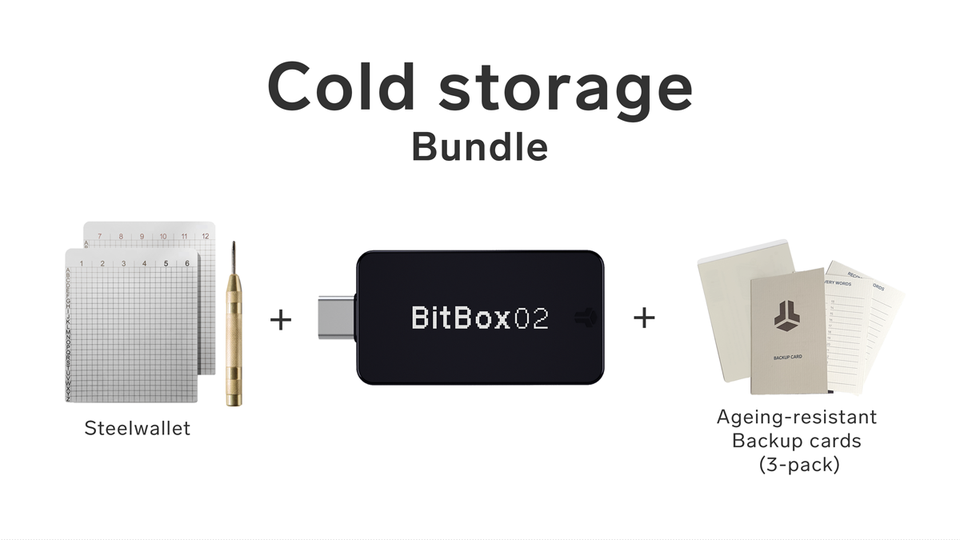 Why External Wallet Stacking?
Relai introduced external wallet stacking to allow Relai users to send their coins directly to a hardware wallet of their choice.
Hardware wallets, also known as cold storage solutions, provide utmost fund security for bitcoin investors because the wallets' private keys remain offline to make it effectively impossible for hackers to access someone's coins.
People who invest large amounts in bitcoin typically prefer to store their funds offline in a hardware wallet to prevent nefarious actors from accessing their coins.
While the Relai wallet provides state-of-the-art security for bitcoin holders, we still advise Relaiers to transfer their bitcoin holdings to a hardware wallet once they have exceeded a certain threshold.
---
Get the Relai App now: The easiest way to invest in Bitcoin
Referral code BuyBitcoins24-Relai: REL12088 😎
If you use it for investing in Bitcoin with the Relai App, you pay 0.5% less in fees! 👍

---
Additional and new features of Relai
Relai's partner, CoinTracking, provides a portfolio monitoring and tax reporting solution for cryptocurrency investors who are looking for an easy-to-use tool for tracking the history of transactions in digital currency and monitoring the portfolio.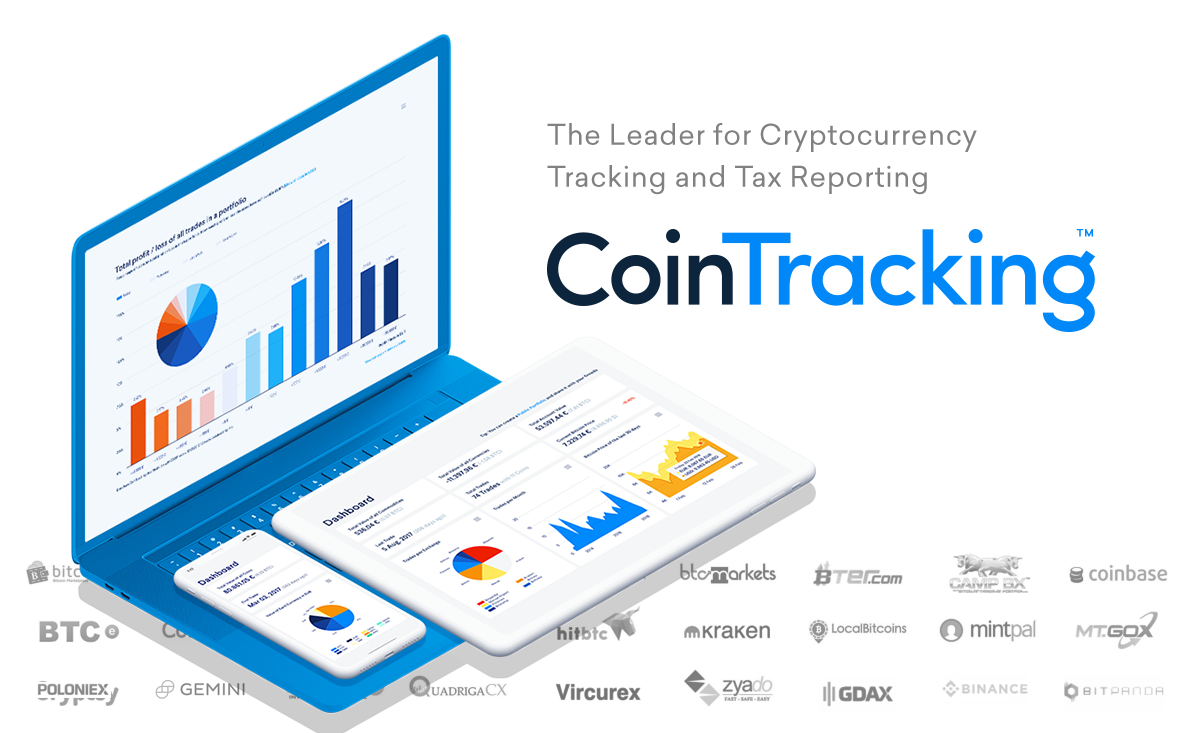 In order to ensure compliance with reporting on cryptocurrencies, compliance with the rules and laws of taxation of cryptocurrencies, Relai users can now easily extract the history of their transactions in bitcoins as a CSV file in the "Settings" in the "Account Statement" section and import it into CoinTracking.
---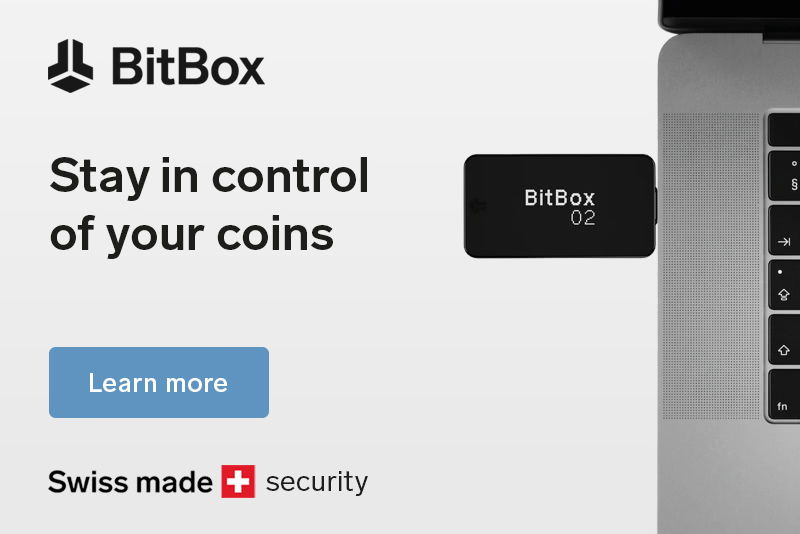 Swiss Relai collaborates with Shift Crypto to directly recommend the Swiss device for cold storage of digital assets - the BitBox02 hardware wallet at the moment when the bitcoin of the user of the Relai application exceeds a certain threshold of values.
The BitBox02 comes in two different versions, a multi-cryptocurrency one with an added universal second factor (U2F) feature, and a Bitcoin-only edition for those who want to only hold Bitcoin.Both provide the same high-grade security features, including a secure chip and multisig setups.
As part of the new partnership, Shift Crypto will suggest Relai to its customers as a non-KYC, mobile bitcoin on-ramp.
For investors looking for a simple, easy and secure way to invest in bitcoin, buying bitcoin with Relai and protecting your assets in a BitBox02 wallet is one of the best solutions in the industry.
---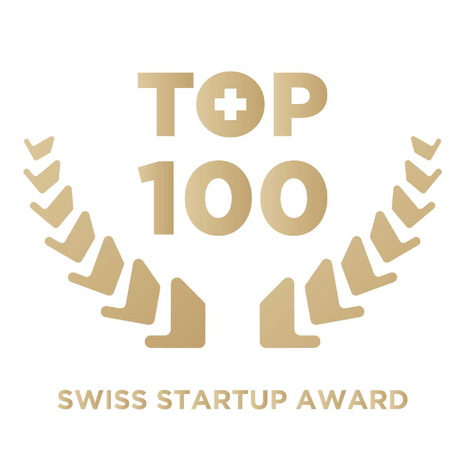 Briefly about Relai
Relai is the world's easiest Bitcoin investing app made in Switzerland. 75% of Millennials want to invest in Bitcoin, but today there's no quick & easy way to do it. Relai delivers an unparalleled experience in terms of convenience (onboarded in 1min) and privacy (no KYC).
The mobile app gives everyone access to the best store of value asset (Bitcoin) in an elegant and minimalistic way that doesn't exist on the market yet:
• no account
• no registration
• no deposit
• directly from own bank account
• minimum amount of 10 CHF/EUR
• recurring investments can be automated
---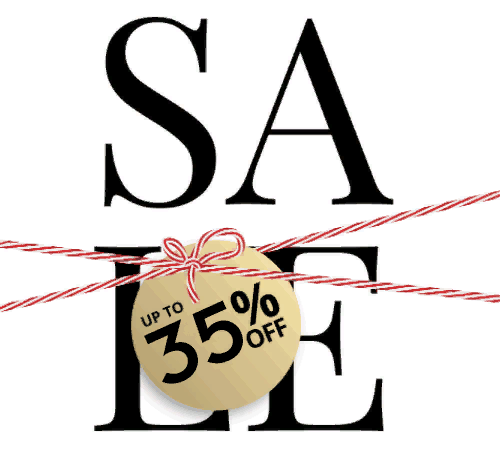 Have you read this article to the end? Then a gift for you! Follow this link and get a 30% discount when buying the world's only biometric hardware wallet D'CENT.