Prokey Optimum is a secure, easy-to-use universal hardware wallet for cryptocurrencies that protects your crypto assets from online and offline attacks, and supports a wide range of cryptocurrencies without installing any application.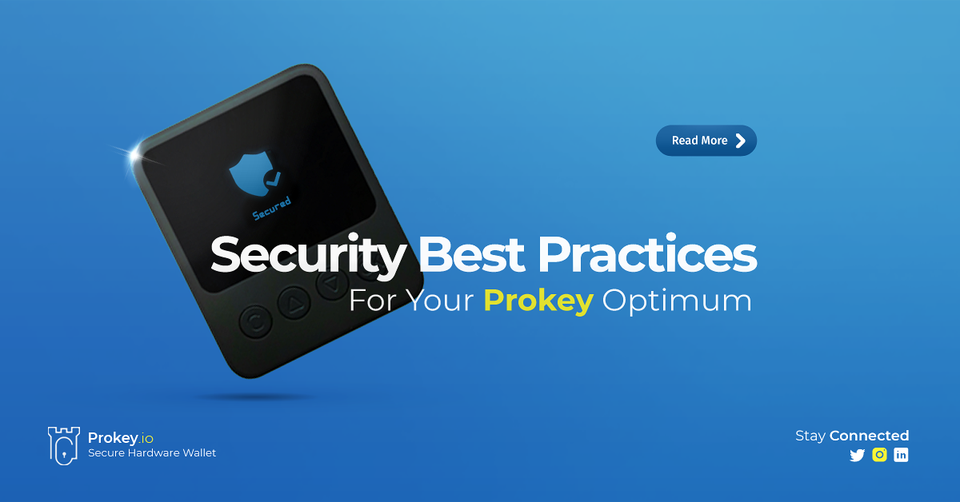 Prokey Technologies Sdn. Bhd. (Malaysia) is an IT company that combines the latest hardware and software technologies to develop security and infrastructure solutions for online accounts, data encryption, and digital asset protection. Prokey Technologies is a manufacturer of the Prokey hardware wallet, which guarantees the safety and security of your cryptocurrencies and other digital assets.
The Prokey Optimum is the first hardware wallet product launched by Prokey Technologies. It houses an intricate and complex firmware that aims to not only provide users with one of the safest ways to store funds and private keys but also to simplify and provide full control of transactions to the user.
The firmware in the Prokey Optimum focuses on web-access operations that do not need any additional software, rendering the potential for tampering and hacking down to a single target, which is stored physically within the device preventing supply-chain attacks through the mutual authentication algorithm implemented in the firmware and server.
Protecting your private key is a critical issue in cryptocurrency, Prokey hardware wallet is an offline, cold storage, and secure device that keeps your private key offline and protected, while also enabling you to receive, store, and sign transactions to send digital assets like Bitcoin, Ethereum, Litecoin, Tether, Bitcoin Cash and many more.
The Prokey hardware wallet differs from most other wallets in that it is a cold wallet that stores your keys offline, on the device itself-compared to other wallets that store your keys on the interface, on the server, or on your computer via the hard drive.
Easy to use: Prokey is a 100% web-based wallet for managing all your assets, no need to install any app or bridge

Trusted by community: Open Source Project to increase transparently

Security: Seed is and will be offline, encrypted and never exposed

Back up: You can backup your seed using BIP32 mnemonic word list 100% offline on device

Cross platform: Compatible with Windows, Linux, MacOS and Android
---
---
Technical specifications
Contents of the box

1 USB hardware wallet

2 USB cable

3 Recovery sheets

Microcontrollers & connector

Connector: USB Type Micro-B.

Chips: STM32F205VG with True random number generator (RNG)

Dimension & weight

Size: 50mm x 41mm x 9.4mm.

Weight: 16.7g.

Compatibility

Windows (7+), Mac (10.8+), Linux, Android

Materials

ABS Plastic

No battery required.

Size of the display

4x4 inch OLED display
What is in the package?
The package that comes along with every purchase of the Prokey Optimum brings to you; one Optimum model hardware wallet, two empty recovery sheets, and an extra USB connector cable.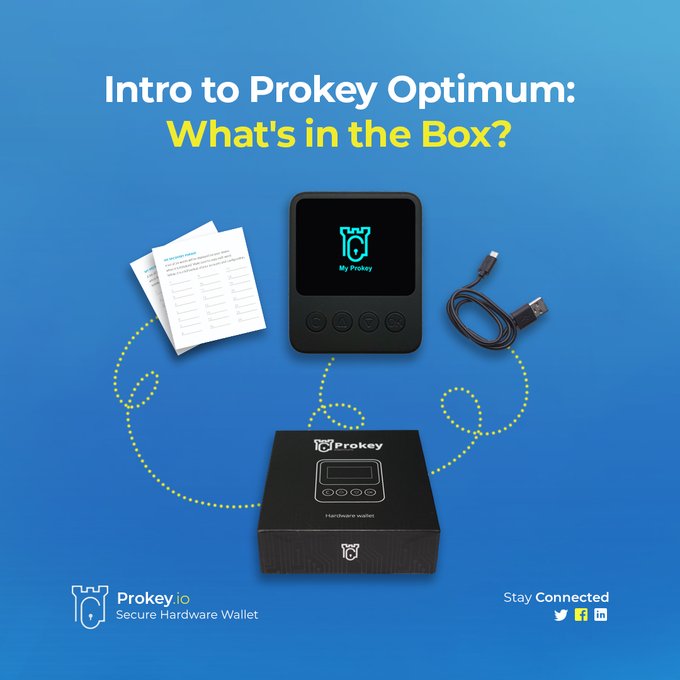 ---
Distinctive Features of the ProKey hardware wallet
The hardware wallet is embedded with secure firmware, so there is no need for holographic seals or vendor reputation
USDT asset management with the highest level of security on both the Omni protocol and the Ethereum blockchain
Don't worry about phishing threats, as there will be no third-party wallets for your coins and tokens. Manage everything on one platform
Access your accounts and coins through a web-browser with no need to download bridges, applications, extensions, or executable file
Safe access through Web or Mobile
---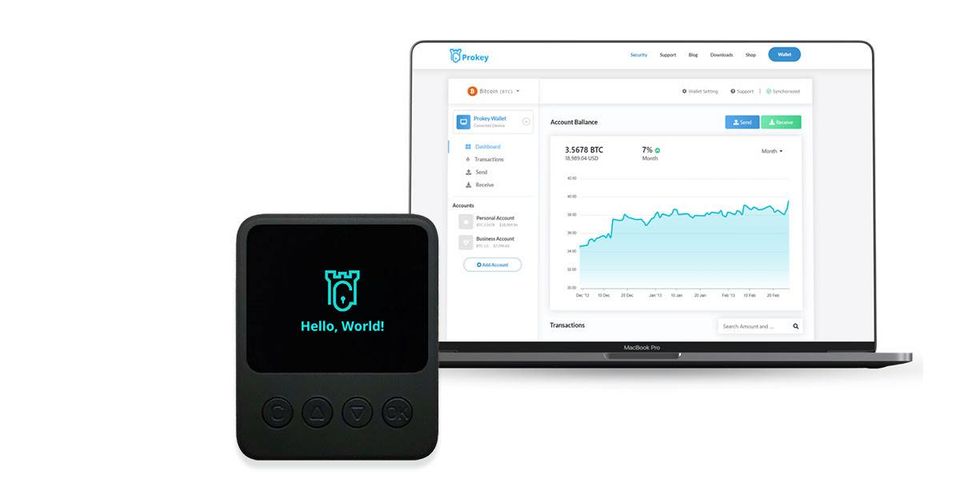 What you need to know about the Prokey firmware?
The Prokey firmware helps the user avoid a successful supplychain attack and not become a victim.
A supplychain attack is successful when a party manages to get into the system through a supplier or an external partner who has access to the system and all the data inside it. For example, in the case of using intermediaries in the distribution of products. Intermediaries have the ability to forge the product before it is sent to the customer. In this way, the software and firmware or any product detail may be compromised. With this in mind, you can purchase any of the Prokey devices from resellers and even third-party vendors with peace of mind, mainly because you can be sure that if the device is compromised, the latest updated firmware will not be installed on it. The presence of a secure and attack-resistant firmware is a distinctive feature and guarantee of Prokey.
So, what makes the Prokey Firmware dependable?
Well, let us break it down for you in two parts: manual firmware installation and mutual authentication with servers.
Manual Firmware Installation
When you purchase a Prokey device, you will receive it without the any firmware installed. This is a security measure to make sure that the only party to handle the device is you and the only source of the firmware is from us. This way, you can be assured that the firmware you install is genuine and untampered. A fair warning: if you receive a Prokey device with a version of the firmware already installed on it when you connect to a laptop/computer, we highly advice you to cease using the device and contact our customer support immediately.
Mutual Authentication with Servers
When it concerns the firmware in any Prokey device, a mutual authentication process will start between said device and our servers. This in particular focuses also on how this process makes the firmware on Prokey devices more secured. If a device is tampered physically, it cannot be used to gain access to your accounts due to an authentication needed from the servers.
If the firmware in your Prokey device is out-of-date, when you connect the device to a laptop/computer and open web wallet, a prompt will appear as a warning that you need to update your firmware. Just follow the instructions on the interface and you will get to update your firmware hassle-free.
---
What are the requirements to use the Prokey Wallet?
You will need to have a Prokey device, a laptop or computer with the Google Chrome browser installed to start using the device's most basic features and operations. To actually start making transactions using the wallet and the device, you will need to own any amount of cryptocurrency or have someone send you some to fully enjoy the other features and operations.
---

So, Why Prokey Optimum Hardware Wallet?
Prokey is a secure cryptocurrency hardware wallet. It enables you to make secure payments and manage cryptocurrencies without exposing any sensitive information to a potentially-compromised computer
Secured by design, Protected against supplychain attacks
Prokey supports over 1000 coins including Bitcoin, Ethereum, Bitcoin Cash, USD Tether
Create and sign transactions inside device
Works on browser, No need to install application and bridges
Manage all assets through a single UI
---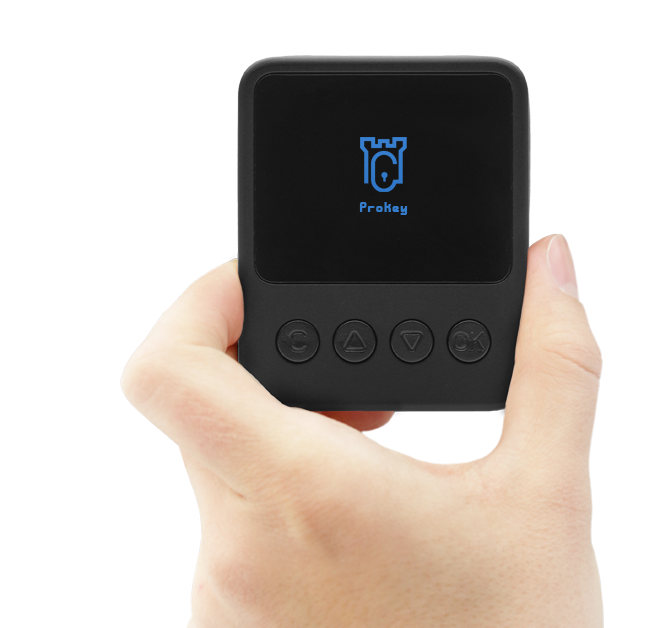 How to order and buy a Pro Key wallet?
Currently, you can get your very own Prokey device from Prokey online store.
You can choose the currency that you are using (fiat/current currencies for now) and make the payment via the payment page towards the end of the purchase journey.
Conclusion
Prokey Optimum hardware wallet is an offline, cold storage, and secure device that keeps your private key offline and protected, while also enabling you to receive, store, and sign transactions to send digital assets such as Bitcoin (BTC), Bitcoin Cash (BCH), Ethereum (ETH) and 1000+ other Cryptocurrencies.
Learn more:
Learn more about new models and new devices of the best hardware wallets,
Visit the official hardware wallet stores, find out prices from manufacturers,
Buy hardware wallets with significant discounts without intermediaries,
Check the list of official stores of the best hardware wallets
TOP 20 hardware wallets, the Official online stores
1

Trezor

hardware wallet, the official online store

2

Ledger

hardware wallet, the official online store

3

KeepKey

hardware wallet, the official online store

4

BitBox02

hardware wallet, the official online store

5

CoolWallet

hardware wallet, the official online store

6

ELLIPAL

hardware wallet, the official online store

7

D'CENT

hardware wallet, the official online store.

30% discount! D'CENT Biometric Wallet

8

SafePal

hardware wallet, the official online store

9

SecuX

hardware wallet, the official online store

10

BC Vault

hardware wallet, the official online store

11

BitLox

hardware wallet, the official online store

12

Keystone hardware wallet, the official online store

13

ProKey

hardware wallet, the official online store

14

NGRAVE

hardware wallet, the official online store

15

Keevo

hardware wallet, the official online store

16

GridPlus

hardware wallet, the official online store

17

SatoChip

hardware wallet, the official online store

18

Ballet

hardware wallet, the official online store

19

FuzeW

hardware wallet, the official online store

20

OPOLO

hardware wallet, the official online store