The CoinZoom Visa debit card lets you convert cryptocurrency into fiat almost instantly. You can spend your cryptos at any retail location that accepts contactless, chip or PIN payments from Visa. Besides the Select card option, CoinZoom also offers Preferred, Gold, Platinum and Black VIP levels depending on the ZOOM tokens you hold. Maker and Taker fees decrease as you scale the levels.
Depending on what card you choose - Select, Preferred, Gold, Platinum or Black you'll earn 1-5% back in crypto on every single purchase. Maker and Taker trading fees will also decrease as you move up the levels.
CoinZoom also lets you perform instant peer-to-peer fiat and crypto money transfers. You can easily send fiat to family and friends anywhere in the world using ZoomMe.
For users to capitalize on cryptocurrency, they need to be able to earn and spend it comfortably, and exchange it for goods and services. CoinZoom, a fully regulated US-based cryptocurrency exchange, has launched its own cryptocurrency debit card, conceiving an easy option for all US-based customers. CoinZoom offers five different cards in collaboration with Visa, each with an increasing amount of user perks.
Since Visa powers CoinZoom's cards, owners have the option of automatically spending any of the accepted cryptocurrencies at over 53 million locations worldwide where Visa is accepted. Complementing the card, CoinZoom has launched ZoomMe, a peer-to-peer international payment platform accessible to all CoinZoom crypto card holders. On top of a widely accepted card, ZoomMe users are able to send and receive money instantly in fiat or cryptocurrencies from all over the world.
CoinZoom wanted to facilitate a simple, non-technical way to increase greater cryptocurrency adoption, so they implemented a crypto based 'cashback' program for their crypto card owners. Depending on your card level, you will be able to earn 2-5% of your spendings back in the cryptocurrency of your choice, an excellent incentive for newcomers who want to diversify, gain exposure, and achieve better returns than traditional credit card companies allow.
The most basic card that CoinZoom offers is its Select card, which comes in a vibrant green color. The Select card gives you full ZoomMe access and the ability to spend up to $500 per day with 24/7 customer service.
One of the coolest aspects of the card that is accessible to everyone is the debit roundup option. With this feature, users can opt to round up each of their purchases to the nearest dollar and have the excess change invested in the cryptocurrency of their choice, creating a passive investment vehicle. This investing method is widely known as dollar cost averaging (DCA) and is a great way to lower the potential downside risk of an investment over time by spreading it out.
The next tier up is the Preferred card, a smooth white option, followed by the Gold, Platinum, and Black cards.
Each of these cards offers everything available on the Select card and more.
With the Preferred card, users increase their daily spending limit to $1,000 and qualify to receive 2% cryptoback on each purchase. Another cool addition for cryptocurrency traders is the trading discount feature that they receive. All Preferred cardholders will get 10% off all CoinZoom trading fees.
The remaining three cards all provide similar but increasing features as the Preferred Card.
The Gold card has a $2,500 limit, 3% cryptoback and 20% trading fee discount,
The Platinum card increases the limit to $5,000, the cryptoback to 4%, and the trading fee discount to 35%,
and the highest tier Black card offers a $10,000 daily spending limit, 5% cryptoback, and a whopping 50% off trading fees.
To qualify for a CoinZoom Crypto Card, you require an allocation of ZOOM, the native cryptocurrency of the CoinZoom ecosystem. With just 100 ZOOM, users get access to the first two tiers of cards and all their benefits. To qualify for the higher levels, you need to hold 12,000, 50,000, and 100,000 ZOOM respectively. You can think of this similarly to a standard card fee, except with CoinZoom, you keep all the value you are allocating for the card.
CoinZoom's debit card makes it easier than ever to spend cryptocurrencies and fiat. Fully regulated and partnered with one of the world's leading card companies, CoinZoom has enabled a way to simplify cryptocurrency and make it widely available to mainstream users.
*) - CoinZoom Visa Card is currently available for U.S. customers. The CoinZoom visa Card will be "Coming Soon" for international customers.
---
---
The Best TOP 15 Crypto cards in 2022
Crypto cards connect traditional money, Bitcoin and other crypto that are in your crypto account.
Crypto cards are not bank cards and their issue does not depend on your credit history. Crypto cards are available to everyone.
Manage your finances effortlessly with crypto cards. Store, buy, invest, send, cash out and spend crypto.Withdraw cash from ATMs in 200+ countries. Shop in stores around the world. Add your crypto card to the list so that everyone can learn more about it!
Many of the TOP 15 crypto cards listed below are available to users in many countries around the world. For information about the availability of these cards in your country - visit the official websites listed below.
We present a list of the best crypto cards:
1. Crypto.com Visa Card & Wallet
2. Crypterium Crypto Card & Crypto Wallet
3. CryptoPay - CPay Visa Crypto Card
6. Mercuryo Crypto Card & Crypto Wallet
7. IBANdirect Crypto Card by Walletto
9. Wirex Crypto Card
10. CardBit Crypto Prepaid Visa Card
12. BlockFi Bitcoin Rewards Credit Card
14. NURI (formerly Bitwala) Visa Debit Card
15. Coinbase Visa Card
Crypto.com Visa Card: Enjoy up to 8% back on card spending, paid in crypto. No annual fee. No delivery fee. Pay anywhere Visa is accepted. ATM withdrawal worldwide. Contactless payment. Crypto: BTC, ETH, XLM, XRP, LTC, EOS, XTZ, BCH, USDC, DAI and others. Fiat currencies: USD, EUR, GBP and others. Top-up with fiat or crypto. Card type: Classic, Platinum. Spotify, Netflix, Amazon, Expedia reimbursement.
---
Crypterium Crypto Card & Crypto Wallet to manage your finances, effortlessly. Store, buy, invest, cash out and spend crypto. Top up with BTC, LTC, ETH and many other assets. Withdraw cash from ATMs in 200+ countries. Shop online & offline in over 42 M+ retailers.
---
CryptoPay Visa Card is the easiest and fastest way to cash out your cryptocurrencies. Use the app and website to exchange BTC, LTC, XRP, ETH whenever you need them. You can send a payment from another wallet or pay directly from your account, and you can track your payments, deposits, withdrawals and transactions online in your wallet, available 24/7.
---
Binance Visa Crypto Card is issued by the largest cryptocurrency exchange Binance. The card is available for residents of the EU countries. The card is free; processing fees are not charged. Cashback - up to 8% on your purchases. Crypto - BTC, ETH, BNB, SXP, BUSD and others. Converting Crypto to Fiat currencies. Transfer of cryptocurrencies from your spot wallet to your card wallet. The aggregated card balance is displayed in the currency in which the card is located (for example, in euros). The card is accepted by 40 M+ merchants worldwide.
---
ADV Cash Card and multicurrency wallet:
ADV Cash Card links Bitcoin and other cryptocurrencies with traditional finances. It's perfect for anyone involved in cryptocurrencies, and works with any ATM and POS terminal in the world which accepts major cards. Comes in EUR and USD. Plastic and virtual ADV cards in a selection of currencies. Multicurrency wallet - USD, EUR, GBP, RUB, TRY, UAH, KZT, BRL; Crypto - BTC, USDT, BNB, ETH, TRX, XRP, LTC, BCH, DASH, XTZ and others.
ADV Cards are available in the European Union (27 countries), Israel, UK, Turkey and Russia.
---
Mercuryo Crypto Card is a BTC-baсked prepaid card for daily expenses issued by Mercuryo Pay with euro, dollars crypto anywhere. Account currency: EUR, USD, GBP, JPY, RUB, TRY, UAH; Crypto: BTC, ETH, USDT, BAT, TRX, OKB, ALGO, BCH, DAI; EGLD. The Mercuryo Card is linked to your Bitcoin account. The balance of the Card is your Bitcoin balance. Card transactions are protected by Mastercard SecureCode and Verified by Visa. PCI DSS Level 1 security standards applied for the processing of personal data.The private key is securely stored and can be fully recovered thanks to client verification. Cryptocurrency is stored in secure offline wallets. Over 40 M+ merchants worldwide accept Mercuryo Crypto Card.
---
IBANdirect Crypto Card by Walletto - plastic and virtual prepaid Visa crypto cards are a simple and easy way to make purchases and withdraw money from ATMs around the world. The account currencies are Bitcoin and Euro. Easily deposit by SEPA in EUR; order, reissue, block your cards; manage all transactions, make payments, view payment history; unlimited money transfers to other users; Apple Pay compatible.
IBANdirect Prepaid Card is the VISA Prepaid Card issued by the Electronic Money Institution Walletto UAB. The company runs its operations from main office in Vilnius, Lithuania, Europe. It is a payment card with C-less technology, equipped with a chip. Connected with unique EU Bank Account (IBAN).
---
Nexo Crypto Card - instant cashback 2 % on all purchases, flexible repayment options, free additional virtual cards, payments in local currencies, no monthly/annual fees, no FX fees; receive instant notifications about all transactions, monitor all your transactions in real-time, view your PIN and change it at any ATM if needed. Accepted worldwide by 40M+ merchants.
Nexo Credit Card - Spend The Value of Your Crypto. The only credit card that lets you unlock the value of your digital assets and keep their upside potential.
---
9.

Wirex Crypto Card
The new multicurrency Wirex Card gives you the power to spend multiple crypto and fiat currencies with real-time conversion at point-of-sale and zero exchange fees. Plus, it earns you up to 2% Cryptoback™ rewards on all your spending. All the things you need, nothing you don't.
The ultimate payment card. Your multicurrency Wirex card makes difficult things very easy. It automatically converts to local currency at point-of-sale using the best possible interbank & Over-the-Counter (OTC) rates, with no exchange fees. That means you can seamlessly spend any of 18 crypto and traditional currencies in real life, whether you're picking up the cheque or tapping in on public transport. If that isn't a game-changer, we don't know what is.
Pay like a local. Stressed about spending abroad? Not any more. The multicurrency Wirex card automatically converts to the local currency when you pay, saving you up to 3% on overseas transactions. Not only does it always pick the best possible live interbank exchange rates, it does so with absolutely no exchange fees. Zero. Zilch.
Global reach. Spend 150+ currencies at live interbank rates at more than 61m locations worldwide.
In-the-know. Instant in-app alerts help you keep track of your payments.
High limits, zero fees. Up to £400 monthly ATM withdrawals and no monthly maintenance charge.
---
CardBit Crypto Prepaid Visa Card is connected to SEPA network; EU Bank Account (IBAN); money withdraw from any ATM worldwide; Card issued in EUR; Secure and safe by secure and certified systems; Contactless Technology; No local bank account is required; Online account to see balances and transactions; 3-D Secure; PCI DSS - compliant security standard platform in line with the latest set of requirments by PCI DSS v3.2 standard; 2-Factor authentification; your CC data never stored.
---
Fold is the bitcoin rewards debit card and bitcoin-back shopping app. Earn bitcoin on everything with the Fold bitcoin cashback debit card. Request access to sign up for our bitcoinback debit card. Available on iOS & Android.
Fold is the best way to earn bitcoin back on everything you do. Use the Fold Visa debit card, and purchase gift cards from the Fold Store, to earn bitcoin on everyday purchases.
---
BlockFi Bitcoin Rewards Credit Card. Spend credit, earn bitcoin.It's credit, not debit. Upon approval, you'll get a credit limit in USD and receive instant 1.5% cash back in bitcoin on every transaction. The first card to offer this.
Earn interest on your bitcoin rewards. Your bitcoin rewards will be transferred to your BlockFi Interest Account monthly and start accruing interest immediately. Your miles can't do that.
Spend (and earn) anywhere in style. Use wherever Visa is accepted, either in-person or online. Plastic is cool, but metal is cooler - get ready for the compliments every time you use it.
- Bonus bitcoin rewards only from BlockFi.
$250 in bitcoin as a signup bonus if you spend $3,000 within your first three months
3.5% bitcoin rewards on all purchases in months 4-6 of card ownership, up to $100 in bitcoin
2% extra APY on your average daily stablecoin balance, paid in bitcoin, up to $200
0.25% back in bitcoin on all eligible trades, up to a maximum of $500 in bitcoin each month
$30 in bitcoin for every client referral, on top of the base Refer-a-Friend program
---
BitPay Card is a Prepaid Mastercard® for the crypto community:
Instant reloads
Reload your balance with no conversion fees* and spend. Powered by our competitive exchange rates. Network fees and miner fees may apply.
Flexibility
Designed for people who want to live life on crypto. View your balance, request a new PIN, and reload instantly all within the BitPay App.
Enhanced security
Includes EMV chip and options to lock your card and control how you spend.
Worldwide
Ready to use in millions of locations around the world. Pay with contactless, PIN or simply withdraw cash from any compatible ATM.
Convert crypto into fiat
Transaction notifications and instant reloads. The BitPay App makes it easy to convert your crypto and spend.
---
14.

NURI (formerly Bitwala) Visa Debit Card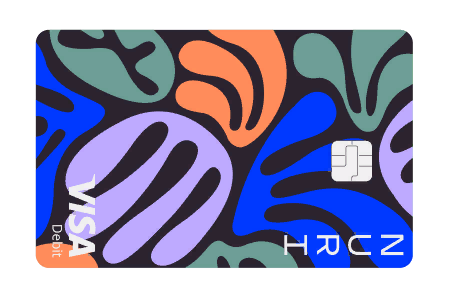 NURI (formerly Bitwala) Visa Debit Card is a debit card for the blockchain era - Convert cryptocurrencies and pay with your Visa debit card.
A secure card designed for global spending - Easily convert and securely spend your coins wherever you are. All that convenience in a modern and minimalist contactless debit card.
Linked to your bank account - Living off your crypto is now easy. Easily trade your coins into Euro and have the funds ready on your account and card.
Protected when you shop online - NURI debit cards come with 3D secure feature. It is a private code that gives you an additional layer of security when buying something online.
Accepted globally - Pay with your card and withdraw funds at over 60 million locations worldwide. The NURI debit card works wherever you are.
---
15.

Coinbase Visa Card
Coinbase Card is a Visa debit card, funded by your Coinbase balance. The easiest, quickest way to spend your crypto worldwide.
Spend your crypto instantly. A Visa debit card that makes crypto as spendable as the money in your bank, powered by your Coinbase account balance.
Use your card worldwide. Ready to use in millions of locations around the world. Pay with contactless, PIN or withdraw cash from any ATM.
Keep your crypto on the safe side. World-class security as standard. Two-step verification, instant card freeze and plenty more to keep your card secure.
Select your crypto wallet. Choose which crypto to pay with through the app. It takes just a few seconds to switch between bitcoin, ethereum and more.
Track every bitcoin. Spending summaries, transaction receipts, and instant notifications. The Coinbase Card app makes it easy to manage your spend on the go.
---
16.

TRASTRA Debit Visa Card
TRASTRA Debit card issued by VISA is an ideal solution for cashing out Cryptocurrencies to EUR without using a Bank account.
The users will not have any transactions from or to Crypto Exchanges on their bank account.
TRASTRA solution includes:
BTC, ETH, LTC, BCH, XRP wallets
IBAN account to receive EUR
Instant exchange Сrypto to EUR and vice versa
Lowest commissions when purchasing crypto with IBAN transfers
Visa debit card
Web/Mobile application
TRASTRA Visa Payment card. Linked to your cryptocurrency wallets and personal IBAN account to make purchases and withdraw cash in ATM. Visa Debit Card accepted worldwide. No Card load fee or transaction fee. Available in Europe.
---
BlockCard stays true to its word with zero crypto transaction fees. Whether you're transferring crypto, exchanging to fiat currency or making a deposit, you won't pay a dime. Deposit Bitcoin and over 12 other supported cryptocurrencies into your BlockCard account and use them anywhere that accepts Samsung Pay, Google Pay or Apple Pay.BlockCard lets you start spending your crypto assets in 4 steps:
Register for a BlockCard account.
Fund your account.
Initiate and pass the credential check.
Receive your virtual BlockCard.
---