One of the leading crypto-backed P2P lending platforms, MyConstant, offers to take part in a Lending Lottery, invest and win up to $ 10 million.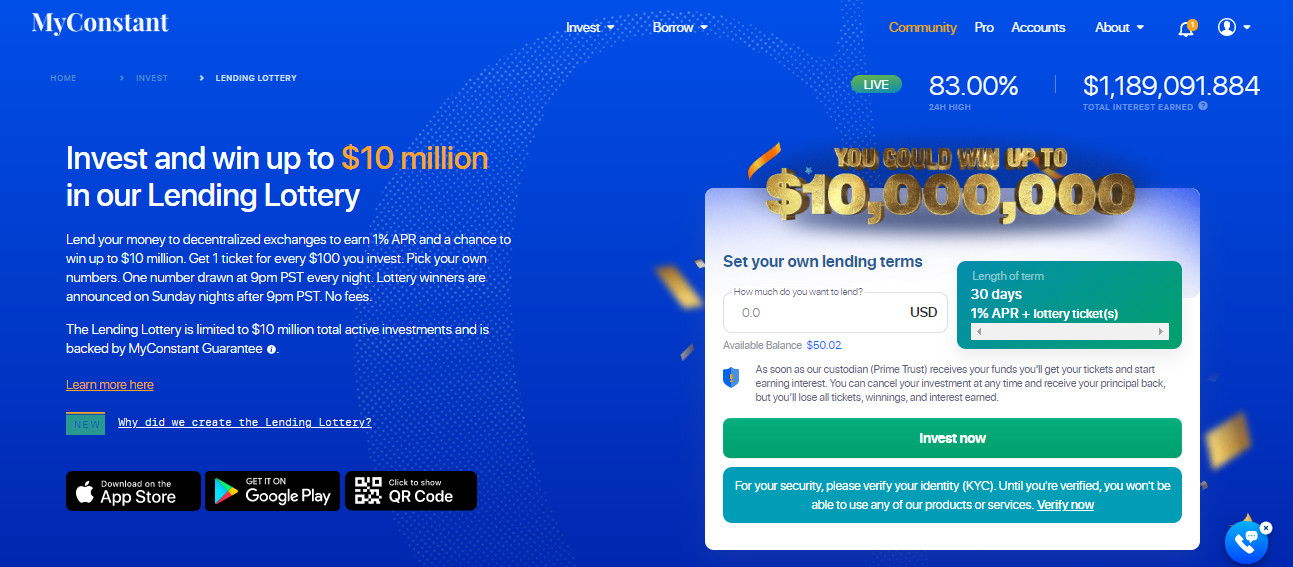 Basic rules*
*) - Published on the official website of MyConstant.
Lend your money to decentralized exchanges to earn 1% APR and a chance to win up to $10 million. Get 1 ticket for every $100 you invest.
Pick your own numbers. One number drawn at 9pm PST every night. Lottery winners are announced on Sunday nights after 9 pm PST. No fees.
The Lending Lottery is limited to $10 million total active investments and is backed by MyConstant Guarantee. The MyConstant Guarantee is a cap on total investments below which we can reimburse you for funds lost or stolen while in the custody of exchange partners.
Why was the Lending Lottery created?
More than 50% of Americans spend money on lottery tickets every month with practically a 0% chance of winning a dime. Per person, that's an average of $300 a year down the drain.
Compare that to FREE Lending Lottery where you earn 1% APR on every $100 you invest and receive a lottery ticket at no cost.
Why waste money on lottery tickets that get you nowhere and savings accounts that give you less than 0.5% APY? MyConstant Lending Lottery is excellent for anyone from beginning investors to experienced ones who want a chance to win cash prizes between $0.25 and $20,000. Who knows, you might even nab our $10M dollar grand prize.
1% APR + Free Lottery Ticket
Invest in MyConstant Lending Lottery and earn 1% APR on your money - up to 10x more than a savings account – plus your chance to win up to $10,000,000 in cash prizes.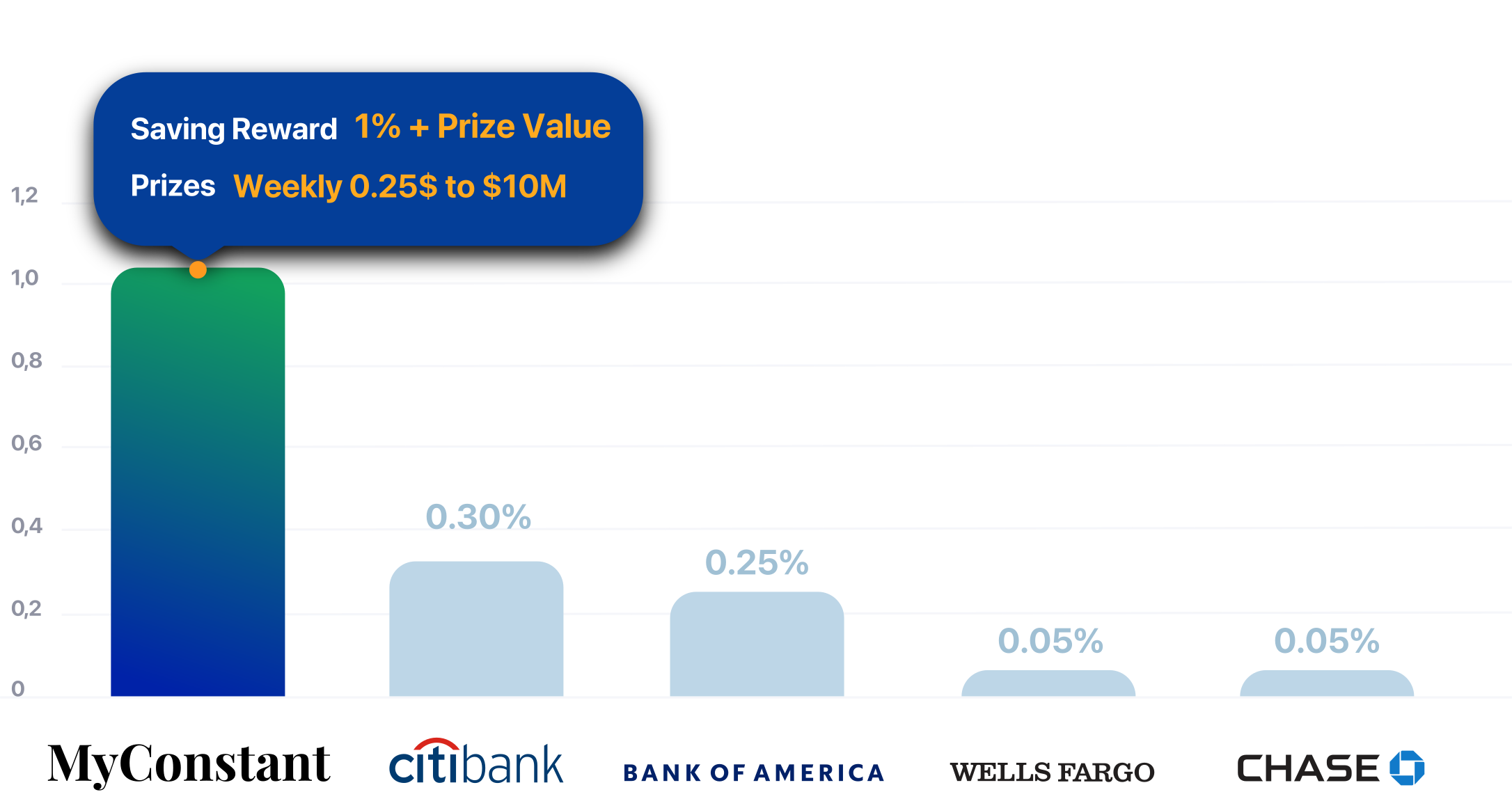 Learn more here >>>
How it works
1.Deposit
If your balance is insufficient, deposit the funds for your 30-day investment.
2. Invest
Create your order and start earning 1% APR. For every $100 you invest, you also receive 1 lottery ticket. Each ticket you receive qualifies you for entry into four consecutive draws (one for every week of your investment).
3. Pick your numbers
Choose six numbers (from 1-70) and a ConstantBall (from 1-60). If you prefer, you can generate the numbers automatically. If you do not pick your numbers within 14 days, our system will pick the numbers for you.
4. Check your numbers
Contests are weekly, with a number drawn every day at 9pm PST. The more you match, the more you win!
* Please note that your tickets will be valid from the next full week. For example, if you pick your numbers on a Wednesday, your ticket will be valid for the next draw starting the following Monday.
5. Automatic winnings
Prizes are paid automatically to your account and are available to withdraw or reinvest when your term ends.
If you decide to end your term early, you will lose your prizes and interest earned.
About MyConstant
MyConstant is a multi-market P2P investment platform based in the US. It offers two different investment products with interest ranging from 4% APY to 9% APR. You can lock your money away for 1-6 months for the best rates or choose anytime - withdrawals for flexibility. There are no fees, 24-7 customer support across email, telephone, and social media. MyConstant also provides a free library of resources to achieve your financial goals, fast.
MyConstant is a new crypto-backed P2P lending platform offering exciting interest rates for borrowers. MyConstant cuts the cost of international transfers, slashes loan processing times from days to minutes, and allows you to take out loans against 70+ different cryptocurrencies.
Interest rates start from 6% APR and are no higher than 7% APR.
Borrow any amount for 1, 3, or 6 months.
No credit scoring or background checks.
All funds are immediately accessible.
On MyConstant you can easily onboard from USD to crypto.
Can get a loan against multiple cryptos at the same time.
---
Products and Benefits
BENEFITS
INVEST
BORROW
Instant Access
Fixed term
Crypto Lend
Crypto-backed loans
Suitable for
Novice investors, new customers, and those who need access to their money
Experienced investors who can commit to a fixed term for a better rate
Long-term cryptocurrency holders who want to earn a return on their idle assets
Crypto holders who want cash or new coins without selling their existing assets
Interest rate
4% APY
6-7% APR
4% APY
From 6% APR
Interest paid
Every second
At the end of the term
Every second
N/A
Term
No term
1, 3, 6 months
No term
1, 3, 6 months
Withdrawal
Anytime
At the end of the term
Anytime
Loan is available immediately. Collateral returned at the end of the term
Incentives / special offers
Free $4,000 trial bonus for new US customers

If you're a US citizen who signs up and passes KYC, you'll receive a 15-day trial bonus of $4,000 to invest in instant access at 4% APY. After 30 days, MyConstant will reclaim the $4,000, but you keep the interest. This gives you the opportunity to try the platform before committing any of your own money.
Refer friends for a $20 bonus (US only) plus 20% of their instant access interest.
MyConstant also offers a generous referral rewards program. For any US citizen who signs up using your unique referral link, passes KYC, and deposits at least $10, you will earn a $20 bonus and 20% of their instant access interest in their first year of investing. For example, if your friend earns $100 in their first year, you get $20 without lifting a finger.
---

Learn more:
CRYPTO LENDING PLATFORMS: Bitcoin & Crypto-Backed Loans and Interest Earning Accounts >>>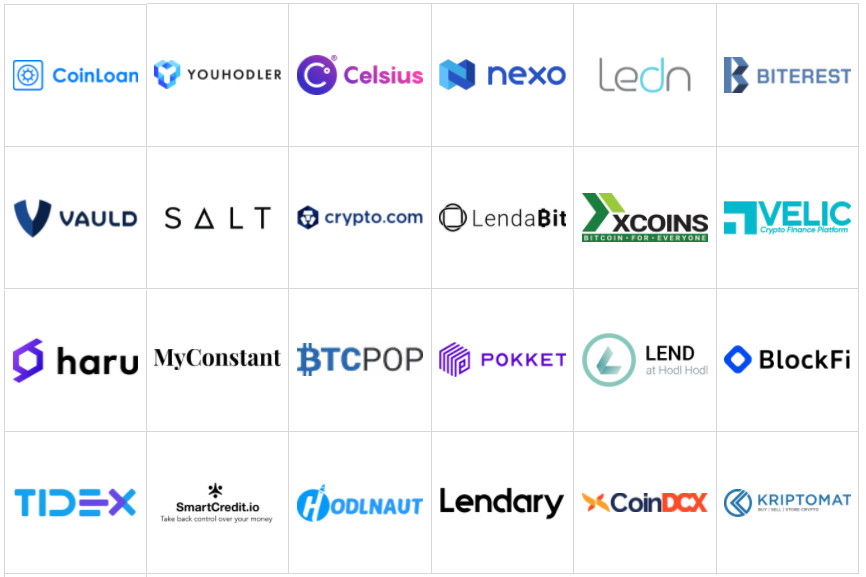 ---

Have you read this article to the end? Then a gift for you! Follow this link and get a 30% discount when buying the world's only biometric hardware wallet D'CENT.
Have you read this article to the end? Then a gift for you! Follow this link and get a 30% discount when buying the world's only biometric hardware wallet D'CENT.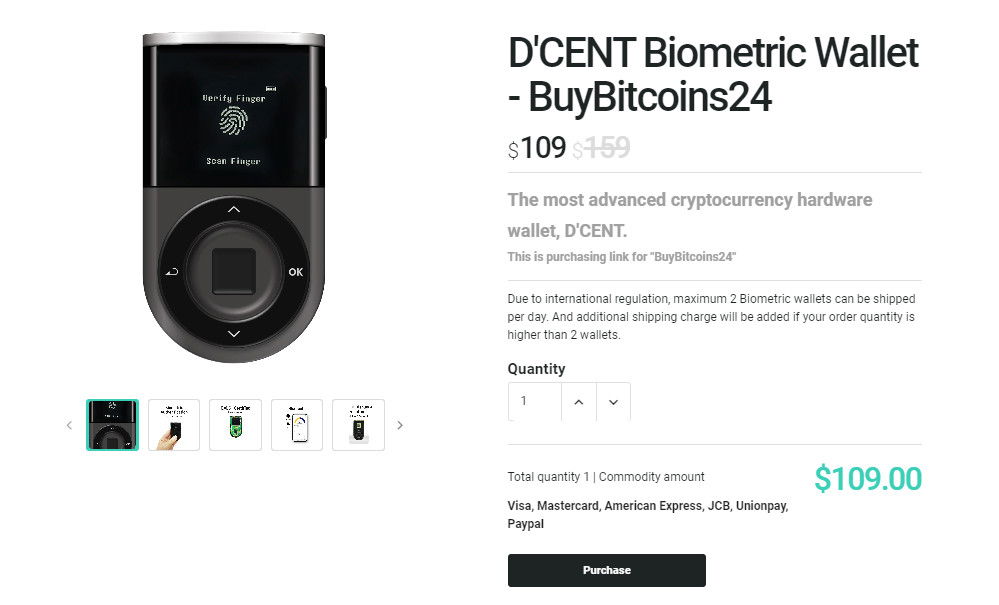 ---