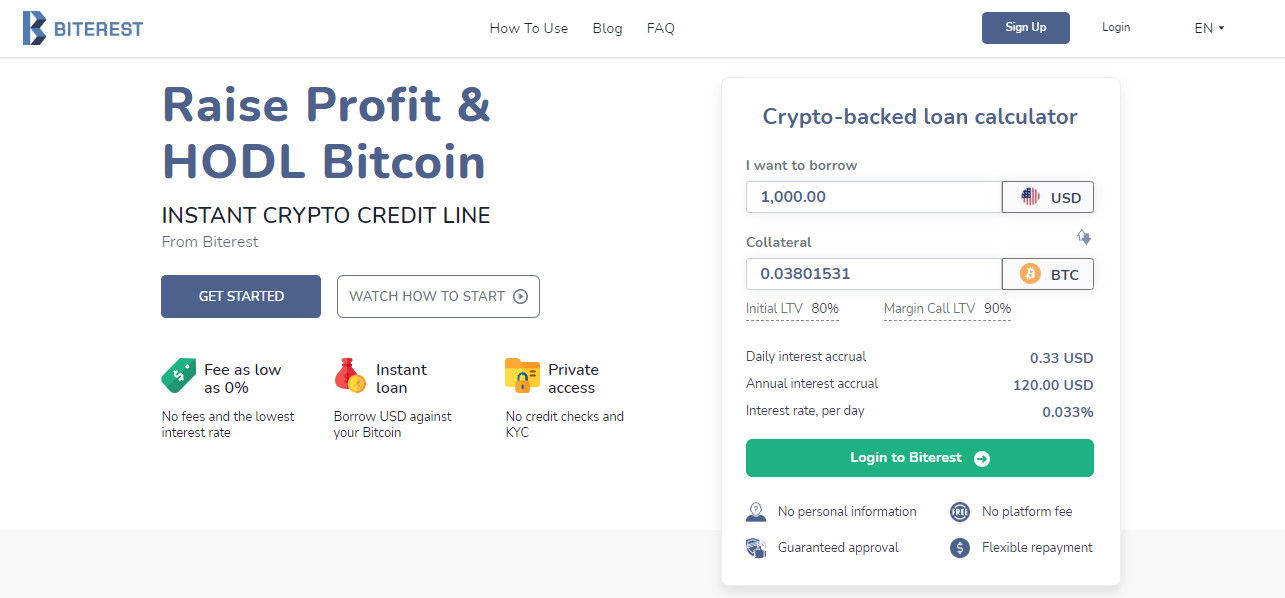 How to multiply return on Bitcoin investment by 172%?
When choosing Bitcoin as the currency for receiving funds, you could probably ask yourself the question "Why take a loan to your balance?". In short, this feature allows you to multiply your profit very simply, even with a slight increase in the BTC rate.
How does it work?
Let's say your Biterest balance is 0.2 BTC. You get a credit on your balance, which automatically becomes 0.34 BTC-with no additional bitcoin investment on your part. Then from 0.34 BTC you get 0.58 BTC and so on. Ultimately, you can increase the initial deposit amount on your balance by 3-6 times.
With the help of credit to the balance, the Biterest user made a profit of 172% more, while the bitcoin price increased by only 14%.
We believe that it will be useful for you to learn how to make a profit of 2X times more with minimal risk. Therefore, we have prepared a step-by-step guide with a detailed description of the actions and intermediate results.
---
In this article, we share how to multiply the profit by depositing loans to the Biterest account balance.
1st step:
Mike topped up his balance on Biterest with 1.09378531 BTC ($10,000). On Biterest, an initial loan-to-value ratio is 83% — the highest among different crypto-backed services — that's why Mike was able to receive up to $8,333 in a loan.

2nd step:
Mike applied for his first loan of $7,500 and chose the option to instantly deposit the loan amount to the account balance.

The amount to receive of 0.82033916 BTC was automatically added to his balance. After that Mike's total balance increased to 1.91412447 BTC ($17,500) and this let him to borrow more.

3rd step:
Mike's new loan limit increased and he applied for the second loan of $6,000 and 0.65627133 BTC was instantly deposited to his balance.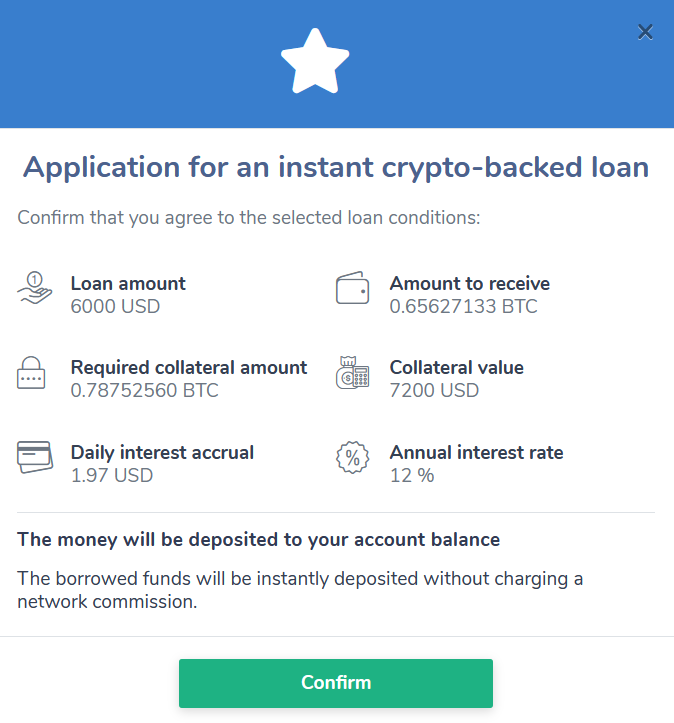 After the second loan Mike's balance increased to 2.57039580 BTC ($23,500). The LTV became 58%.

4th step:
Lastly, Mike applied for the third loan of $5,000. The amount to receive in bitcoin was 0.54689277 BTC. Mike's balance increased totally to 3.11728857 BTC ($28,500).

Mike would be able to receive more loans while the LTV (loan-to-value ratio) was 65% and available amount to borrow was $5,243.92. However, Mike decided stop as the LTV was increasing after the each issued loan. The next loan of $5,000 would increase LTV to 70%. The greater is the LTV, the higher is the risk of automatical loan repayment (Margin Call) if Bitcoin price sharply drops. It is recommended to maintain LTV ratio around 50-65%.
To sum up:
Mike received three loans which were deposited to his account balance on Biterest in the total amount of 2.02350326 BTC ($18,500) although his initial collateral was only 1.09378531 BTC ($10,000). Let's fill the table with these figures:
BTC price: 9142 USD
Initial investment: 10000 USD (1.09378531 BTC),
First loan: 7500 USD
Added to the balance: 0.82033916 BTC (7500 USD),
Second loan: 6000 USD
Added to the balance: 0.65627133 BTC (6000 USD),
Third loan: 5000 USD
Added to the balance: 0.54689277 BTC (5000 USD)
30 days later, Bitcoin price increased by 14,8% (from $9,142 to $10,500), therefore, Mike's balance increased to $32,718 (by 14,8% too).

Let's compare Mike's profits:
1) If Mike didn't receive bitcoin-backed loans: Mike's initial investment was in the amount of $10,000 (1.09378531 BTC). When the Bitcoin price increased from 9142 USD to 10500 USD (14,8%), his investment would increased in cost to $11,480. Mike would earn $1,480.
2) After Mike received bitcoin-backed loans: Mike's total investments made up 3.11728857 BTC or $28,500 at the Bitcoin price of 9,142 USD. After 14,8% increase in Bitcoin price, the cost of his investment on Biterest account balance increased to $32,718.
Mike's used loan limit made up $18,500 + $185 of accured interest 30 days later (1% per month). Mike chose to repay the loan ($18,685) with bitcoin from his account balance ($32,718).
In result, after repayment his balance became $14,033 (1,33647619 BTC). Excluding the initial investment of $10,000 (1.09378531 BTC), Mike made a profit of $4,033 and 0.24269088 BTC.
The result:
Due to a 14,8% increase of Bitcoin price, Mike earned extra 2,555 in USD and 0.24269088 in BTC by depositing bitcoin loans on his Biterest balance.
---
The Bottom Line
How to multiply the profit from bitcoin?
Follow these steps:
Transfer the initial amount of bitcoin to your balance which is typically used as collateral for your first loan,
Then apply for a loan and choose the option to deposit the borrowed money back to the balance,
Loaned bitcoin will raise your balance and let you receive more loans, Repeat these steps as many times as you can,
Multiply your profit when BTC price goes up.
The benefits:
Don't hesitate to try today and take advantage of the next Bitcoin bullrun!
You can receive 3X times more loans with your initial collateral
No need to deposit more collateral to receive more money in a loan
In the case of Bitcoin price growth, your profit will grow several times more
Source: Biterest.com
About Biterest
Biterest Markets is a peer-to-peer (P2P) Bitcoin Backed Lending Platform. In 2017, Biterest was founded to help Bitcoin users to preserve their Bitcoin when they have a need to sell it. While others sell Bitcoin to cash it, you can apply for a USD loan against your Bitcoin.
The value of the collateral grows following the growth of the BTC price. Therefore, instead of selling Bitcoin at a disadvantageous rate, you HODL and make great profits when Bitcoin price rises.
---
Learn more:
CRYPTO LENDING PLATFORMS: Bitcoin & Crypto-Backed Loans and Interest Earning Accounts >>>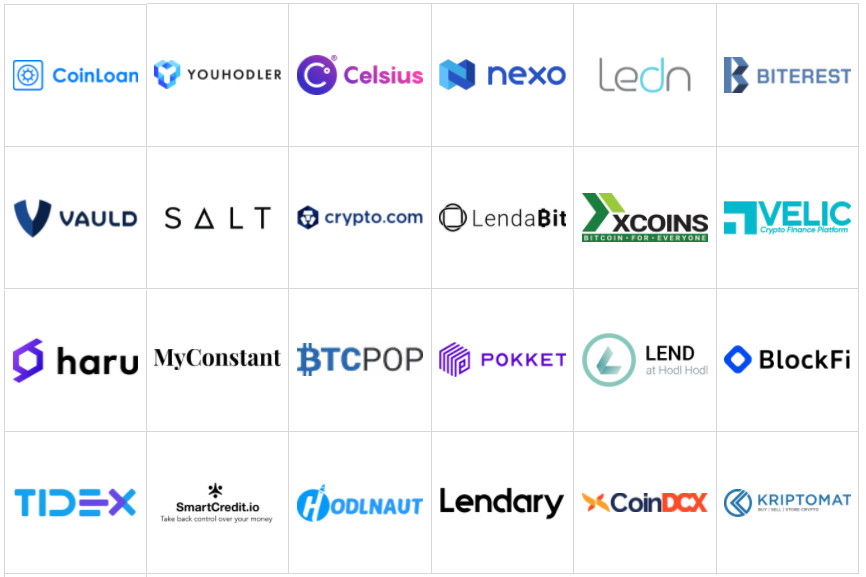 ---

Have you read this article to the end? Then a gift for you! Follow this link and get a 30% discount when buying the world's only biometric hardware wallet D'CENT.