Ledn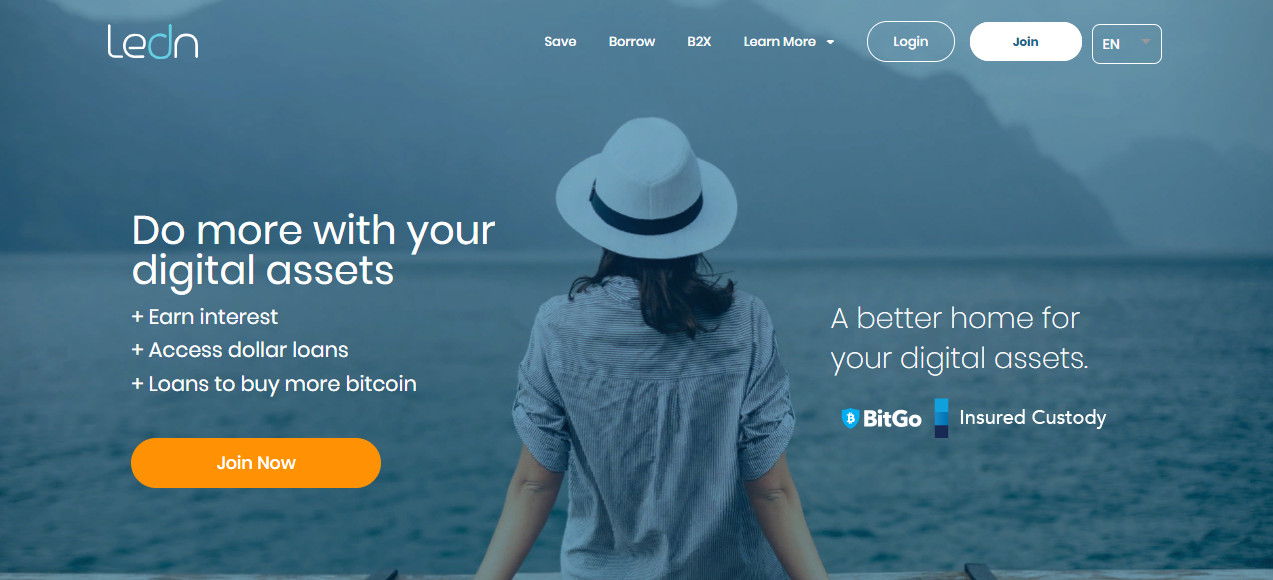 Ledn is based in Toronto (Canada) and offers a set of products for managing digital assets — savings accounts, loans and a fundamentally new type of B2X lending.
You can receive funds in US dollars or USDC, and BTC is accepted as collateral (it is planned to gradually add other assets).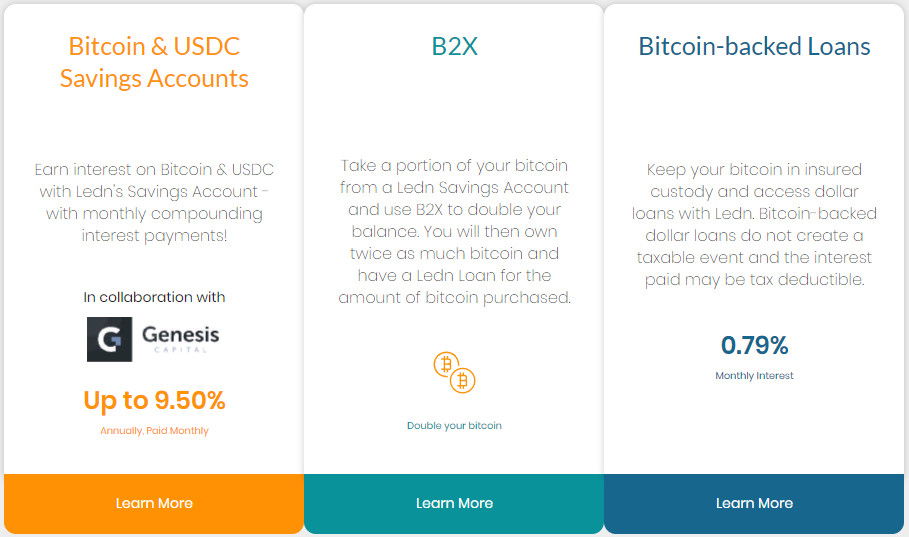 Ledn Products
Bitcoin & USDC Savings Accounts
Earn interest on Bitcoin & USDC with Ledn's Savings Account - with monthly compounding interest payments! In collaboration with Genesis Capital. Up to 9.50% Annually, Paid Monthly.
B2X
Take a portion of your bitcoin from a Ledn Savings Account and use B2X to double your balance. You will then own twice as much bitcoin and have a Ledn Loan for the amount of bitcoin purchased. Double your bitcoin.
Bitcoin-backed Loans
Keep your bitcoin in insured custody and access dollar loans with Ledn. Bitcoin-backed dollar loans do not create a taxable event and the interest paid may be tax deductible. 0.79% Monthly Interest.
Ledn Trade
Ledn also recently launched Ledn Trade, a service that enables clients to exchange between USDC and Bitcoin, specifically catering to clients in growth markets who wish to quickly move between the two digital assets. The product-market fit of Ledn's services to date is evidence of a growing global demand for this kind of innovative digital asset solution.
---
Ledn features
The Ledn platform has the following important features for customers:
A loan at 9,5% per annum with an LTV of 50% for 12 months.
After the end of the term, you can extend the loan.
Borrowed funds can be returned both by fiat and bitcoin.
You can withdraw from the savings account at any time without penalties.
Current prices are taken from the Coindesk portal.Mandatory provision of identification information within the framework of the KYC (Know your Customer) and AML (anti-money laundering) policies.
Credit history checks are not carried out.If the cryptocurrency exchange rate increases during the loan, then the borrower benefits, since he needs to give the amount in the loan currency. If the bitcoin exchange rate falls, the platform will offer to make an additional deposit or pay part of the principal debt. Otherwise, part of the collateral can be sold to normalize the LTV.
Loans
Ledn loans are backed by Bitcoin and allow you to quickly get a dollar loan without having to sell cryptocurrency. There are many advantages in this method — you do not sell your investments and do not perform a taxable action. At the same time, Bitcoin is securely stored and insured in BitGo.
Conditions:
The annual interest rate is 9,5%.
The LTV ratio is 50%.
Credit funds in USD or USDC are received within 24 hours from the moment of approval.
The repayment period is 12 months (an extension is available).
No monthly interest payments are required. It is enough to return the entire amount and interest at the end of the term.
You can repay the loan at any time without penalties.

Loans are issued in almost all countries of the world.
Deposits
Ledn savings account allows you to earn money on your Bitcoin savings. Interest accrual is carried out thanks to cooperation with Genesis — users' funds are given to this company at interest. Everything is completely safe — Genesis works with elite financial institutions and has over $ 3.1 billion in turnover, using the highest standards of credit processes and reporting.
The annual rate is 4.1% for Bitcoin deposits, 8.8% for USDC.
B2X: Doubling your Bitcoin balance.
In addition to Ledn's bitcoin savings account and bitcoin-backed loans, Ledn is releasing a service that helps users make the most of their bitcoins. B2X is a service that allows users to increase the number of bitcoins they own with the help of a loan secured by Ledn bitcoins and the purchase of bitcoins. A quick and easy way to double your Bitcoin balance.

B2X is a service that allows you to increase your bitcoin holdings through a Ledn bitcoin-backed loan. Through the B2X service, users access a dollar loan and purchase an amount of bitcoin equal to their initial holdings. By doing so, the user holds twice as much bitcoin, with a bitcoin-backed loan for the dollar amount used to purchase the bitcoin.
B2X is designed for users that have a positive view on the value of bitcoin increasing over time. By doubling the user's bitcoin ownership, you can receive twice the exposure to bitcoin. Like all of Ledn's products, it is designed for people who want to hold more bitcoin.
B2X works like a Ledn Bitcoin-backed loan. The loan can be open for up to 12 months and can be repaid at any time without penalty and the balance of bitcoin is returned to the user.
Users use their Ledn Bitcoin Savings Account balance to access the B2X service. By selecting the B2X option from the site menu, users can use the calculator to decide on the amount of bitcoin they would like to double using the B2X service. The platform shows the current price at which bitcoin is trading, the total amount of bitcoin that you will hold once the service is activated, as well as a summary of the terms of the Bitcoin-backed loan agreement that is entered into. From there, you can accept the purchase after inputting a 2FA code and accepting the terms and conditions for the Ledn bitcoin-backed loan.
Make the most of your bitcoin with B2X
B2X: It's the simplest way to double your bitcoin.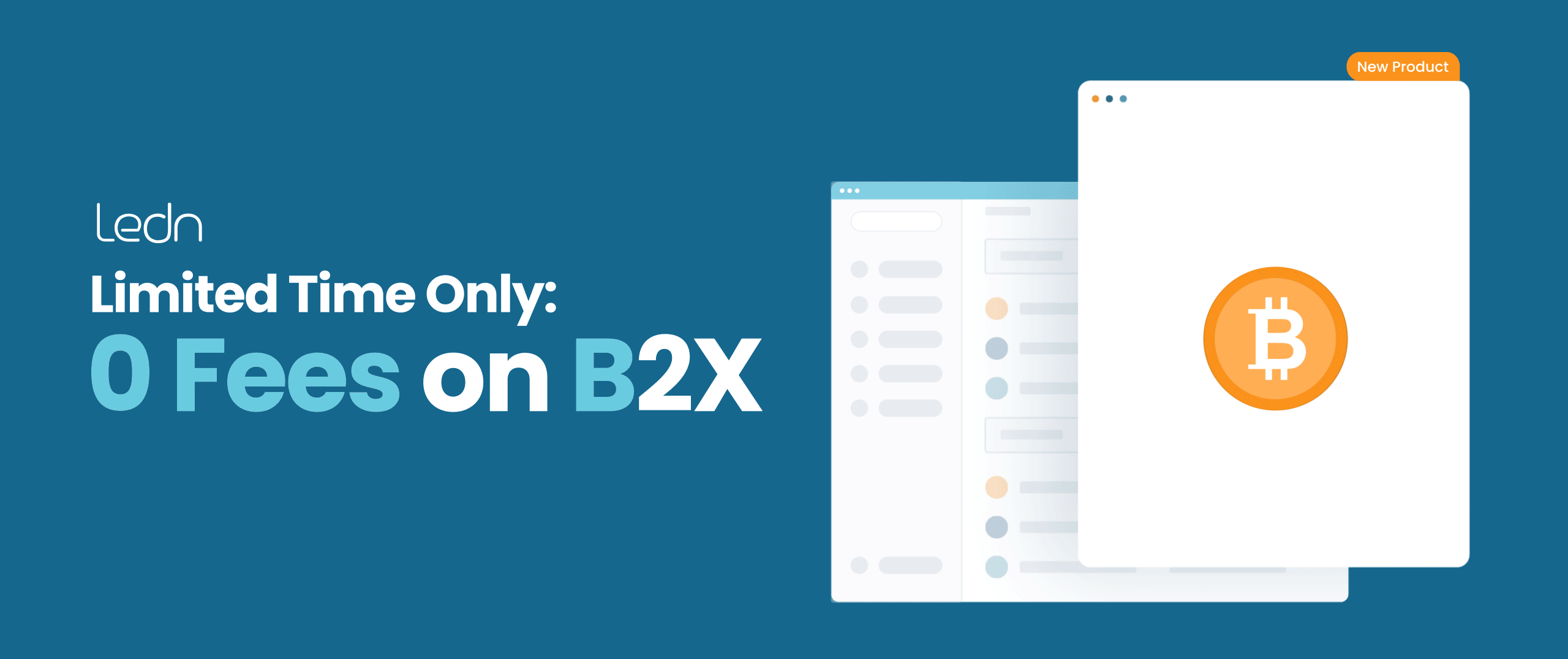 Why B2X?
Instant Execution - You can use B2X with the bitcoin balance in your Ledn BTC Savings Account. Simply select the amount of bitcoin you'd like to use and follow the simple steps. The application takes less than 1 minute.
Flexible Time Horizon - B2X Loans are a specialized type of bitcoin-backed loan to allow you to increase your bitcoin holdings. The loan can be open for up to 12 months and can be repaid at any time without penalty and the balance of bitcoin is returned to you.
For more information on B2X visit Ledn website.
---

Deposit and withdrawal
You can withdraw the cryptocurrency deposited as a deposit at any time 24/7. Recall that all financial transactions on the Ledn website require passing a KYC/AML check.
The fiat funds received on credit are transferred to the bank account, the details of which you specify in the application at the time of registration. There is no platform commission, but it may be on the side of your bank.
A commission of 1 USDC is charged for the withdrawal of funds, which includes the fees of the ethereum network for processing the transaction. These are the only commissions on the service; using a Ledn savings account is completely free.
Safety
All data stored in Ledn is encrypted, which ensures the security of financial transactions. Confidential customer data (first name, last name, email address, phone number, date of birth, address, photo) is used only for identity verification. This client data is never uploaded to local servers. You can contact support at any time to delete or update your account data.
Two-factor authentication adds an additional level of security. At the moment, it is mandatory for using the B2X product, but in the near future it will become a requirement for other Ledn services.
Payment information is stored to facilitate repeated application for loans. Bitcoin and USDC are stored with BitGo, a licensed custodian registered in the United States.
New Product: Ledn Trade

Ledn Trade: Fast, simple trading that allows you to instantly swap between Bitcoin and USDC.
Ledn charges no additional fees other than the price quoted. Ledn no-slippage trading product provides you with a quote that you can accept.
Adjust your savings balances from bitcoin to USDC as you see fit, helping you take advantage of market opportunities.
All of the assets you purchase start earning market leading interest in their savings accounts on the day your trade is placed.
Ledn Trade is now available on your Ledn dashboard.
---
Conclusion
Ledn provides financial products with a mission to help clients across the globe unlock the power of digital assets to build wealth for the long term. Operating in over 100 countries, Ledn offers interest-bearing savings accounts and Bitcoin-backed loans, enabling clients to access dollars or additional Bitcoin without needing to sell any of their existing holdings.
Ledn has active clients in 105 countries, and has exceeded $1 billion in assets on its platform. Since the start of 2021, Ledn has tripled its team while growing its total lending book by over 800% and savings products by 280%. Ledn remains an industry leader when it comes to transparency and accountability standards, being the first-ever lending platform to undergo a formal proof-of-reserves attestation by Armanino LLP, a top public accounting and consulting firm and a recognized global leader in digital asset assurance solutions.
For more information visit Ledn.io
Learn more:
CRYPTO LENDING PLATFORMS: Bitcoin & Crypto-Backed Loans and Interest Earning Accounts >>>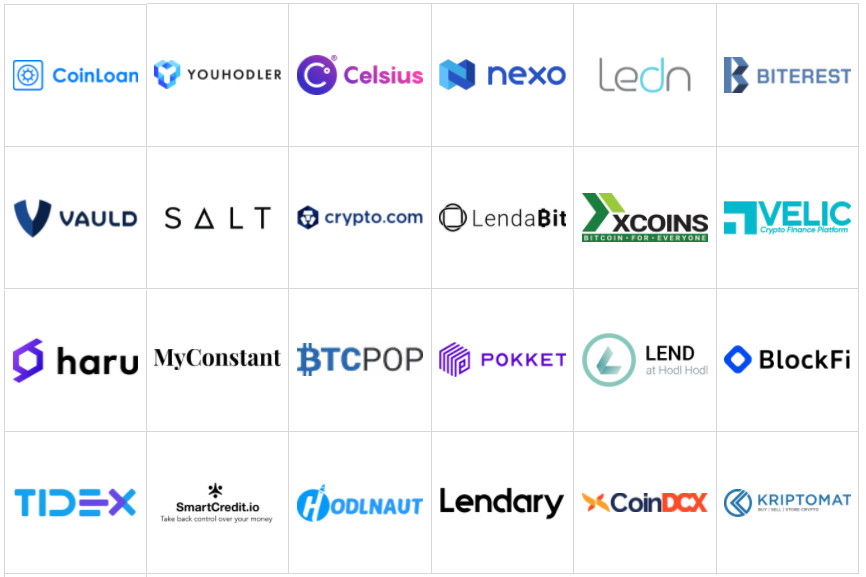 ---

Have you read this article to the end? Then a gift for you! Follow this link and get a 30% discount when buying the world's only biometric hardware wallet D'CENT.