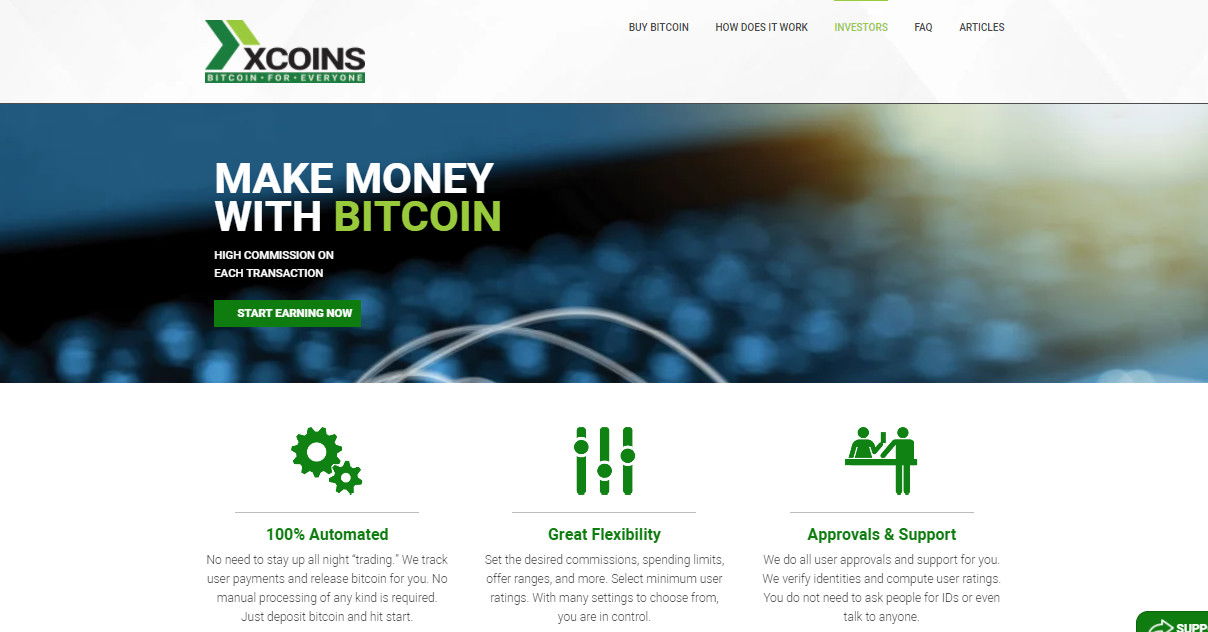 xCoins is a peer-to-peer service for secured bitcoin lending with instant approval. Unlike sites where you need to deposit cryptocurrency as collateral and receive fiat on its basis — here the collateral is fiat, and the loan is issued in bitcoins. Accordingly, those who want to earn interest on their cryptocurrency, deposit bitcoin to their accounts, which is later used for lending.
Until recently, xCoins was the only platform through which you can legally purchase Bitcoin through the PayPal payment system.
Features of the xCoins platform
Any user can be either a borrower or a lender. When a borrower requests a loan, the xCoins platform automatically matches it with a suitable lender. The borrower transfers funds directly to the lender according to its details. After confirming the payment, BTC is automatically transferred to the borrower's wallet.
The interest rates are set independently by the creditors. The recommended level is 15%.
The duration of the application approval is usually a few minutes, but it can take up to 3-12 hours, depending on the time of its creation. All subsequent transactions are instantaneous.
The main payment system is PayPal. Accordingly, all payment methods that are supported by PayPal are accepted (credit and debit cards, PayPal balance, eCheck, bank accounts).
The lender must have a verified PayPal account. There is no such requirement for the borrower, you can make a deposit directly from the card.
All loan amounts are denominated in US dollars. In case of a change in the Bitcoin exchange rate, you will need to return an amount equivalent to that received in US dollars.To return the loan, you must contact the lender directly and agree on a method of repayment.
The PayPal payment system allows you to dispute a payment. If any of the counterparties tries to do this, the lender must provide the administration with confirmation of the operation from the xCoins personal account. The evidence will help win the dispute and save the funds received.
Lending
The interest rate on the loan is paid together with the collateral as a one-time payment The amount of interest payment does not depend on the duration of the loan program. Lenders set interest rates themselves, and then expect feedback from borrowers.
To get a loan, you need to click Get Bitcoin and study the offer that the xCoins system issued. Only one option with the most favorable interest rate will be selected. Such limited offers create competition, and lenders try to offer the lowest rate.
The loan is returned in a lump sum at any convenient time. At the same time, all the collateral funds are returned back. In addition to interest, the borrower must also pay a commission of 2.9% of the amount + $0.30.
If no offer is available, then try to specify a different amount. The easiest way is to get a loan for a round amount ($20, $ 50, $ 100).
Deposits
For lenders, xCoins is a free platform, no commissions are charged from the amount.
The lender sets its own interest rate based on how much it would like to earn from the transaction. It is recommended for beginners to set 15% for the beginning, and then, depending on market conditions, increase or decrease it.
The lender needs a working verified PayPal account to use the system. Borrowers will send collateral and interest payments to their PayPal account.
To get started, you need to top up your xCoins account with bitcoins, and then wait for responses from potential borrowers. Most requests are in the range of $50.00 – $500.00, so creating such an offer guarantees the fastest response (1-2 hours).
Deposit and withdrawal of funds
Payment methods for collateral on the xCoins platform:
Credit cards: Visa, MasterCard, American Express, Discover;
debit cards;
bank account (ACH);
eCheck;
PayPal Credit;
PayPal Balance.
Bitcoin withdrawal by both lenders and borrowers is possible to an external BTC wallet.
Safety
The xCoins platform is designed in such a way as to ensure the security of both sides of lending. The borrower receives offers only from those lenders who have enough bitcoins in their account to satisfy the request. All the processes of transferring BTC after payment to PayPal are fully automated.
The site's security is provided by GeoTrust SSL certificates. All communications between the browser and the site servers are private and are securely protected by 256-bit encryption. It has a True Site tag, which indicates that authentication was passed.
Payment Card Industry Data Security Standard (PCI DSS) is responsible for the security of payments, the standard for data security in the payment card industry, on the basis of which Visa, MasterCard, JCB, American Express, Discover systems operate.
Conclusion
The company xCoins has received a lot of positive feedback during its work. Users note the honesty and transparency of operations, good opportunities for passive income, maximum simplicity of all actions, instant confirmation of applications. The disadvantages include a slow response from the support service on weekends, although this does not affect the productivity of communication.
---
Alternative methods to get Bitcoin using PayPal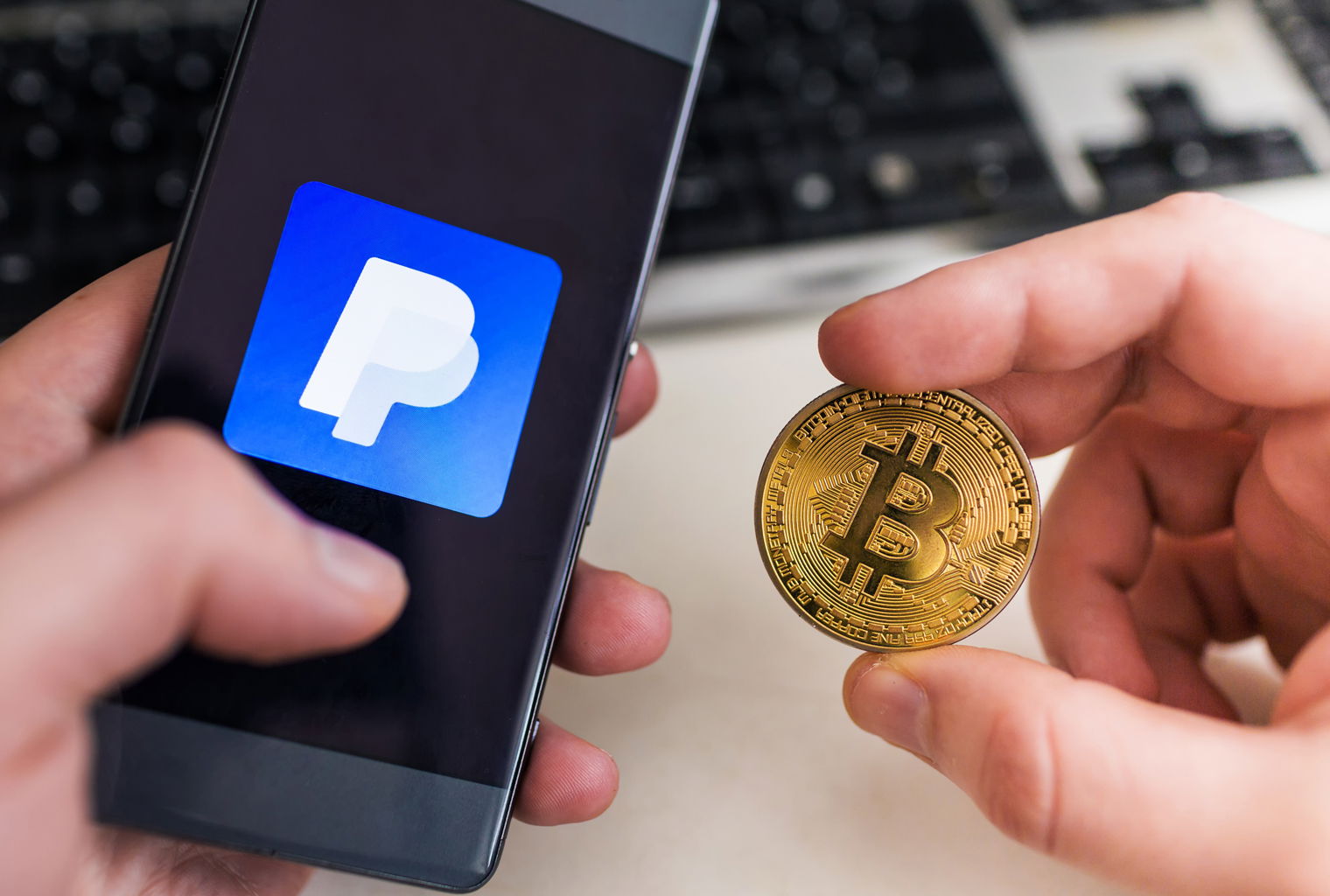 You can buy Bitcoin directly from the PayPal app using your existing funds or a linked debit card or bank account. You can also buy and sell Bitcoin using PayPal transfer or checkout through any of the trading platforms, peer-to-peer trading platforms or peer-to-peer lending platforms.
Peer-to-peer marketplaces are a good source for purchasing bitcoin with PayPal. This type of platform allows people to trade bitcoins with peer-to-peer transactions. Sellers have the option of accepting multiple types of payments and many do accept PayPal. With a simple search, you can easily find the sellers that do allow PayPal transactions. Use the filter options for the fastest results.
Paxful is a popular peer-to-peer trading platform for buying and selling bitcoin.
LocalBitcoins is one of the oldest platforms for buying, selling and trading bitcoins with local dealers.
Peer-to-peer lending platforms allow users to lend and borrow bitcoins using a secure transaction. Lending platforms such as xCoins allow users to secure a bitcoin loan using PayPal.
xCoins is a reliable peer-to-peer lending platform that accepts PayPal as a financing method.
Also, eToro and Wirex offer to buy Bitcoin using PayPal.
eToro is one of the most popular social trading platforms for beginners and advanced traders.
Wirex is a debit card and an application. A PayPal account can be easily linked to Wirex for fast and efficient replenishment of the account.

---
Learn more:
CRYPTO LENDING PLATFORMS: Bitcoin & Crypto-Backed Loans and Interest Earning Accounts >>>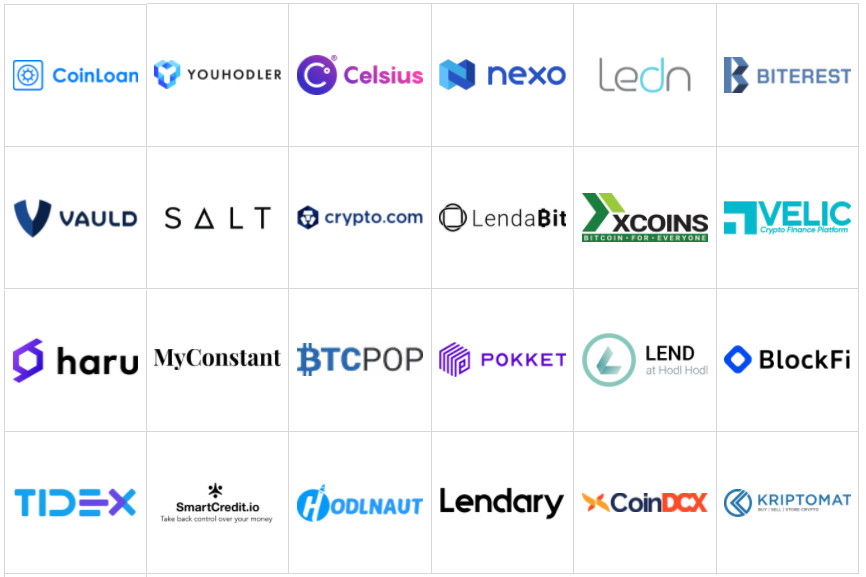 ---

Have you read this article to the end? Then a gift for you! Follow this link and get a 30% discount when buying the world's only biometric hardware wallet D'CENT.
Have you read this article to the end? Then a gift for you! Follow this link and get a 30% discount when buying the world's only biometric hardware wallet D'CENT.