Recently the market has undergone major changes and experienced very high volatility - with many traders suffering significant losses. But the fact is that even in such conditions it is still possible to earn and easily minimize your cryptocurrency risks. Learn more about the new tools and features of CoinRabbit and Guarda Crypto Wallet.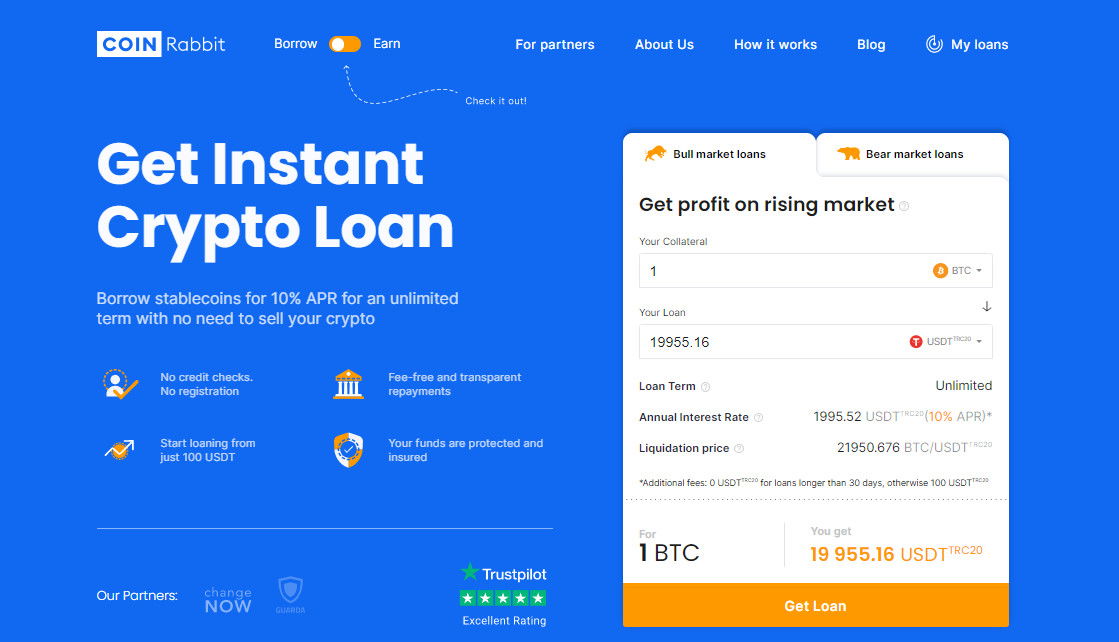 Regardless of market conditions, the CoinRabbit crypto lending service has all the tools for earning successfully in the market. CoinRabbit users have access to a range of flexible earning solutions while also being able to get loans quickly without having to undergo time consuming credit checks, KYC or platform registration.
This service was founded by a team of experienced crypto veterans and its industry partners include important projects such as ChangeNOW and Guarda Wallet.

From the outset CoinRabbit has distinguished itself from other lending services by accepting a very broad range of popular cryptocurrencies as collateral. For example, it is one of the first lenders to support DOGE, NANO and DGB - helping to grow community adoption. CoinRabbit's commitment to adding new coins is ongoing, and the platform says it will be adding Monero (XMR) in the near future.
What are crypto loans?
CoinRabbit's crypto loans provide its clients with facilities to get a stablecoin loan in return for their crypto assets as collateral. Due to the volatility of the cryptocurrency market crypto loans are over-collateralized which serves as a means of insurance for the lender. This means if the value of your crypto asset increases or decreases, it will not change the initial calculations of your loan repayment amount.
CoinRabbit Benefits:
No verification, credit history or KYC required
Unlimited time frames. You can withdraw your deposit at any time
Withdrawal of funds is not suspended when the market is dumping
No maximum deposit amount
CoinRabbit accepts BTC, ETH, DOGE, NANO, XRP, DGB, FIRO, BCH, UNI, LINK, MKR, CHZ, SNX, COMP, ENJ, BAT, SUSHI, YFI, ZRX, FTM, and BNT as collateral and this list is always growing
If you plan to use your received funds for trading the risks would be much lower than while margin trading, for example. You are not tied to an exact trading pair.
Annual Interest Rate – 10% APR. Clients can pay the interest at any time before closing the loan
Zero additional fees for the loans over 30 days
If significant price dumping occurs, clients will receive several warnings of a possible liquidation
You can increase your deposit amount at any time to increase the liquidation price and minimize the risk
Clients can get their deposit back at any time by paying off the repayment price. This usually takes about 20-30 minutes
Due to 50% LTV you will be able to buy nearly the same amount of your collateral asset once the market falls and/or your collateral is liquidated. For example, if you decided to use 1 BTC as collateral at $60,000 price and the market dumps for 45% (at this point liquidation happens) then you would've been able to buy almost the same amount of collateral (1 BTC for this exact case) at $33,000 price by using your initially received loan amount.
How to get a crypto loan on the platform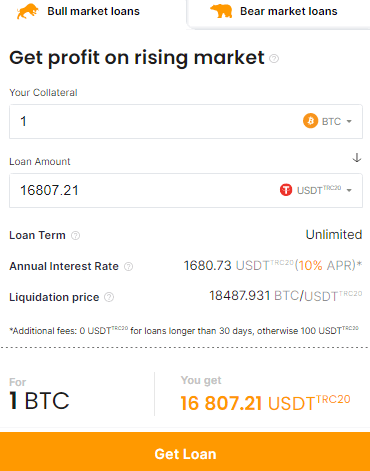 To get a crypto loan, you need to navigate to the CoinRabbit platform and select the "Borrow" option.
Next, choose the loan amount in stablecoins (USDT ERC20 / USDC / USDT TRC20) that you'd like to receive.
Further, you will need to enter your wallet address and add your phone number for tracking the loan status.

In the column "Your address to pay out stablecoins" you will need to enter your stablecoin wallet address in order to receive the loan.
Next, when you have entered your phone number, you will receive an SMS verification, at which time you need to specify the verification code.

After confirmation, you will see a CoinRabbit address to send your deposit asset.
Finally there will be several security processing checks relating to the receipt of the funds. The whole process of getting the loan takes about 10-15 minutes. It's as easy as that.
Bear Market Loans: How To Earn While Others Are Losing
Bear Market Loans with unlimited time frames are another useful CoinRabbit feature that will help you successfully follow short strategies or just earn at a time when others are losing.
If you think the market is about to dump and you are ready to execute a short strategy. Utilizing a Bear Market loan, you can sell the received currency, catch the fall and buy the same currency - then you take the profit and pay off the loan.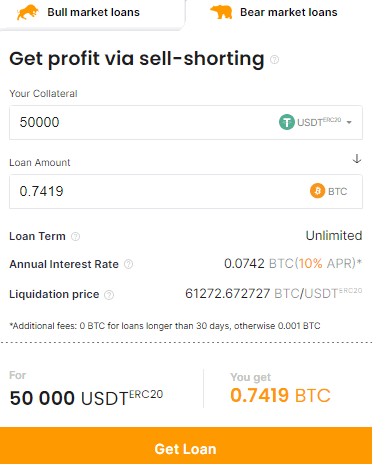 CoinRabbit Earnings: Opportunities For Passive Earnings
CoinRabbit also offers the opportunity to earn passive income from your stablecoins with returns backed by our loan income. The whole process is as simple as possible:
First choose your deposit amount and the stablecoin you would like to deposit: USDT or USDC
Verification is processed with your phone number. It will be needed to check your deposit status
Next, confirm and send your deposit. The funds pass the verification and AML security layer, and our risk-control system checks every transaction in the blockchain
From the first day your deposit is active you begin earning on your stablecoins
Your 6% APY is accumulated and updated on a daily basis, and can be checked on your CoinRabbit dashboard
You can add to your deposit at any time and increase your potential earnings
There are no fixed terms for your deposits. Only you decide when to deactivate your deposit and withdraw your funds
Crypto Earning can be useful in the following scenarios:
You believe in your assets and you want to HODL it while earning passively.
If you do not want to risk trading in a volatile market, and are not sure about its future movement, you have a safe solution to increase the value of your assets.
With any market movement or even in the case of market stagnation you will continue to earn with CoinRabbit Earnings. It's as easy as that — make your deposit and start earning now.
---
What is Guarda Wallet?
Guarda is a secure crypto wallet - multiplatform, non-custodial. Custody-free crypto wallet for Bitcoin, Ethereum, Tether, TRON, DeFi Tokens, Stablecoins and hundreds of other assets; buy and exchange crypto; send/receive, manage, store, stake, multi-signature, currency - specific features.
Guarda Wallet is non-custodial cryptocurrency storage, that supports the most popular coins and their tokens including BTC, BCH, BSV, ETH, NFTs, Ethereum-based tokens (ERC20, ERC721), ETC, ZEC, LTC, XRP, NEO, EOS, DASH, and the others.
Guarda features a web, desktop, mobile, and chrome extension version of its wallet for interacting with digital assets.
The wallet is also natively integrated with an exchange for swapping between crypto-assets and operating as a crypto-fiat gateway.
At the same time, Guarda provides an interface for you to interact with the blockchain and manage your funds in a secure and convenient way while your Ledger hardware wallet is connected. The Guarda Wallet lets you connect your Ledger device to platform, so you can securely display your balances and manage your transactions. Experience the security of Ledger hardware wallet with Guarda: secure and instant exchange of your crypto assets.


---
How does borrowing in the Guarda Wallet work?
For those who need to get extra money for temporary use without selling crypto, Guarda Wallet has added an option for instant crypto loans. The built-in CoinRabbit partner solution for borrowing stablecoins for any purpose without complicated checks and paperwork allows you to use cryptocurrencies as collateral towards a cryptocurrency-backed loan for 10% APR (annual percentage rate).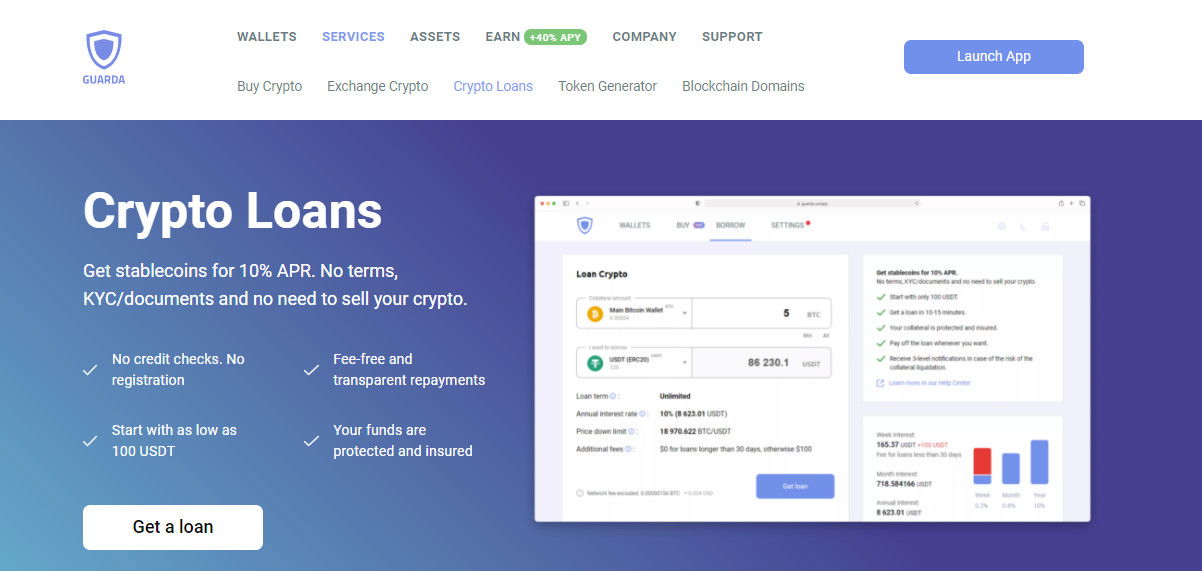 How do crypto loans work
To get loan users send their crypto as collateral, and CoinRabbit then lends stablecoins to them at a certain interest rate. You can use crypto as a collateral asset to receive 50% of the LTV (loan-to-value) in stablecoins. It will be held safely and returned to you as soon as you repay your loan. We'd better do a list of benefits:

You can get your collateral back anytime. In order to do that, you have to make your loan's repayment. It consists of the amount lent and the accumulated APR counted monthly during your loan's period. After your payout transaction is confirmed, your collateral will be sent back to you in 10-15 minutes.
No additional fees for loans longer than 30 days. For the short ones, there are $50-100 fees (depends on the collateral currency).
The annual fee is charged at the beginning of each month. You can easily check the total amount of the loan, including all the fees, in your loan details in the Borrow tab.
Borrow as much and as often as you want. There's no real limit as long as you're willing to post the collateral.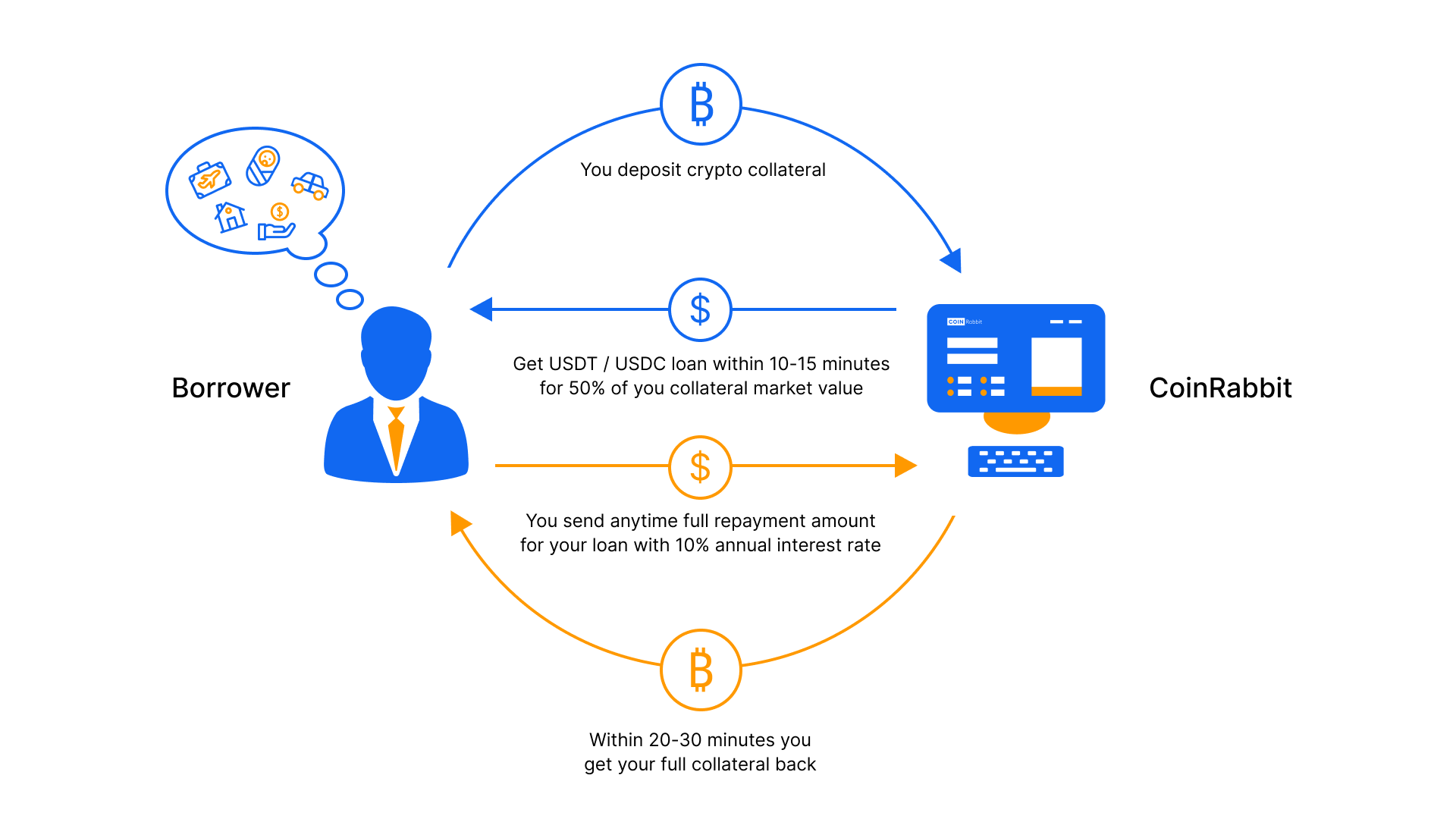 Get a loan in three easy steps
You can use this option in your Guarda Wallet on

web and desktop platforms

. Launch the app, open the Borrow tab and calculate your loan using different collateral options. You can check loan terms, annual interest rate, price down limits, and fees

after setting a collateral amount and the currency you want to borrow.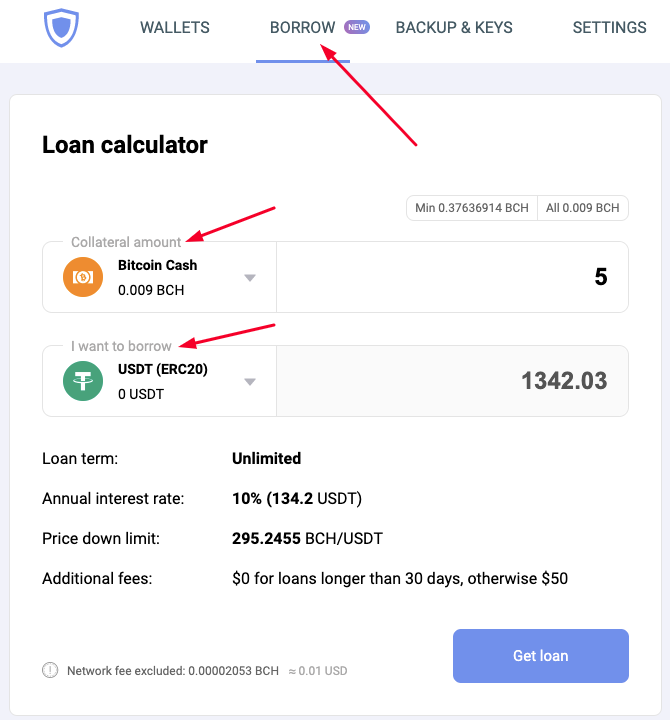 Select your payout address and collateral amount ($100 or more) and confirm the operation. After sending, you will see a confirmation page with transaction details and will be able to connect notifications by phone number. Turn on notifications at the moment because this is the fastest way to get important information about rates and the status of your loan. You will receive a notification if your loan reaches each of the three limit zones or if your collateral has been sold.

As soon as the collateral is sent and confirmed in the network, you will receive the loan amount to your payout address in a few minutes without any additional checks. Both outgoing and incoming transactions will be also seen in your History tab.
What's next?
Start spending! Use your loan as long as you want.
Guarda is ready to draw your attention to the rate of your collateral currency and the status of your loan via SMS.
To check

loan details use the Borrow tab. Tap the loan on the list to connect notifications, change your phone number. All the outgoing and incoming loan transactions are always available to check in the History tab.

To pay off your loan

tap the Pay off loan button, select an address you want to use for paying / as a payout one, and an address you want to get the collateral back to. After confirming the operation, you will receive your collateral within 10-15 minutes.
All of your loans will be displayed in the Borrow tab: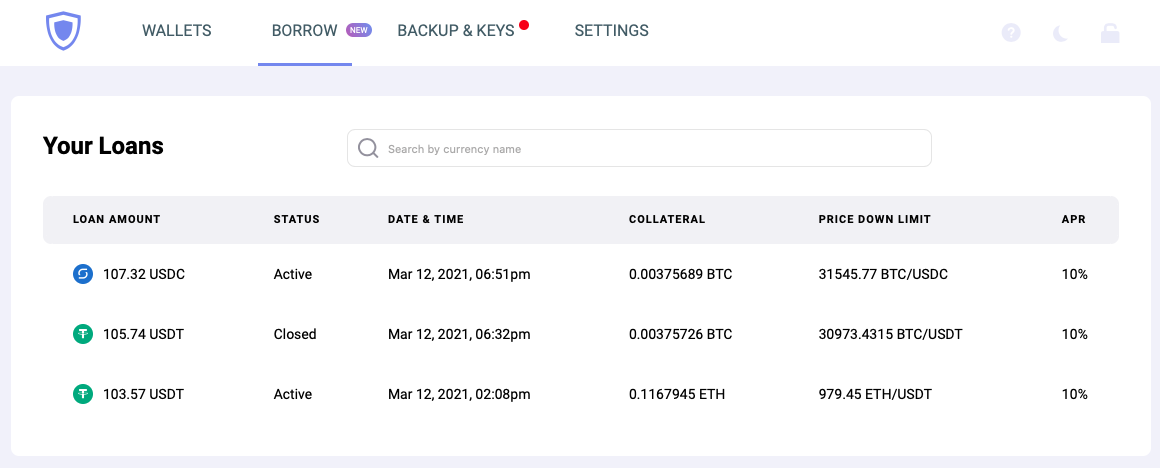 How to Borrow; Put your cryptocurrency as collateral and borrow stable coins using the CoinRabbit partner service installed in the Guarda multicurrency wallet - Video Guide.
Learn more:
CRYPTO LENDING PLATFORMS: Bitcoin & Crypto-Backed Loans and Interest Earning Accounts >>>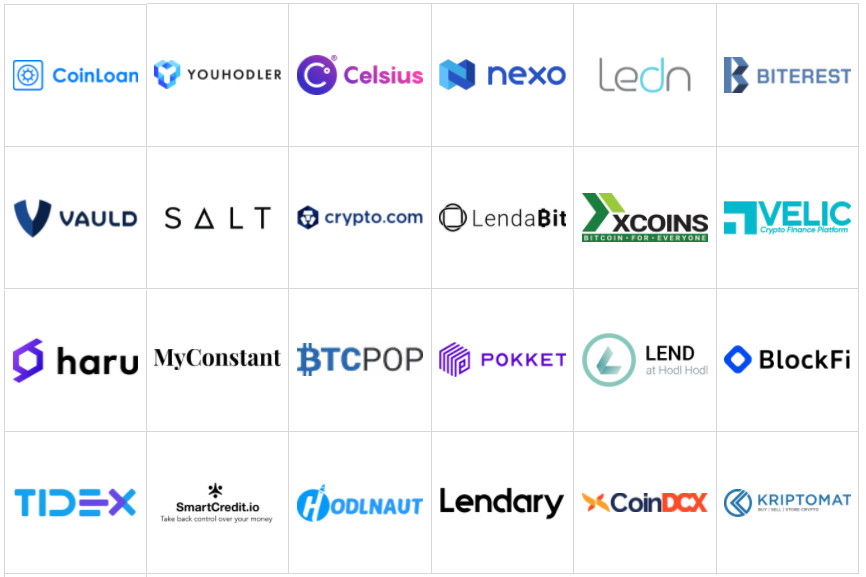 ---

Have you read this article to the end? Then a gift for you! Follow this link and get a 30% discount when buying the world's only biometric hardware wallet D'CENT.
---
Sources: Coinrabbit.io, Guarda.com, Ledger.com, Changenow.io, Bravenewcoin.com, BuyBitcoins24.com